Michael Wojciechowski's Unusual Path Leads to an Ideal Career
By Scott DCamp
·
Photos by Kelly Jordet
·
January 11, 2021
Michael Wojciechowski, student senate president and member of the Pioneer Clay Target team, is close to completing his fourth academic program at Northland Community & Technical College after taking a path that has been far from traditional.
Wojciechowski attended high school in both the Marshall County Central and Thief River Falls school districts. He graduated from Lincoln High School in Thief River Falls in 2011 and chose to attend Minnesota State University Moorhead. He wasn't sure what he wanted to do at first but eventually settled on a double major of law enforcement and sociology.
"That didn't go so well," Wojciechowski said. "First time in my life that I failed a class. I just wasn't putting enough effort and focus into my schoolwork."
Wojciechowski ended up earning 27 credits his first year. He also accrued over $15,000 in student loans after just one year of school. Wanting to avoid any more debt, Wojciechowski decided to enlist in the Army to help pay for school.
"I met with a recruiter who swore up and down that they would help me out with education benefits as soon as I completed basic training and AIT, and was assigned to my unit," Wojciechowski said.
A broken finger in July 2012 forced Wojciechowski to wait a couple more months before he could begin basic training.
"It was probably a blessing in disguise – it gets really hot in Georgia in the summer," Wojciechowski joked. "I went in the wintertime and it was beautiful there."
Wojciechowski completed his basic training at Ft. Benning in Georgia, returned to Minnesota for a brief Christmas break, and then took a plane to Ft. Sam Houston in Texas in January 2013 to complete his advanced individual training as a combat medic. Overall, his AIT took seven months.
"That was, in a lot of ways, rougher than going through basic training," Wojciechowski said.
What made it so rough was a base-wide lockdown due to a drug ring.
"They locked us down pretty hard," Wojciechowski said. "We had a little PX convenience store across the street from our barracks, and we couldn't go there without our company commander giving us permission."
Three months into his AIT, Wojciechowski began experiencing knee pain. Flat feet would eventually be deemed the reason for the pain, but it wasn't evident at first.
"They took a look at my joints and said, 'Yeah, you have some problems there. Your joints are breaking,'" Wojciechowski said. "'We don't really know what to tell you. Do this physical therapy and see if it helps.'"
Wojciechowski went to physical therapy. His joints and muscles were confirmed to be strong, but the pain in his legs continued to get worse.
"I was up to 2,400 milligrams of Naproxen, with Advil or Tylenol as needed," Wojciechowski said.
The Army was downsizing at the time and Wojciechowski was given a choice…stay on board for another year to see if his condition improved or accept an honorable discharge for medical reasons and talk to a doctor at home.
With the base being in perpetual lockdown, Wojciechowski accepted the honorable discharge.
Had he been able to complete the training, Wojciechowski would have been assigned to the 2nd Combined Arms Battalion, 136th Infantry Regiment, which is headquartered in Moorhead.
"Probably one of the things I regret most is not being able to do more in that situation," Wojciechowski said. "I had a great time down there and met a bunch of great people."
---
Death by PowerPoint
Wojciechowski returned to Minnesota in May 2014. He was eligible to receive some military benefits due to his honorable discharge, but those benefits did not include any assistance with college tuition. To make matters worse, Wojciechowski's doctor didn't have an answer for his knee pain. Instead, he was told to stay away from cardio, stay away from stairs, and hope it gets better.
Wojciechowski continued battling knee pain the next couple of years. During that time, he moved to Moorhead and worked the night shift at an IT company. That job eventually led to Wojciechowski working as a software engineer at Microsoft.
"That's where a lot of my software and computer knowledge came from," Wojciechowski said. "Death by PowerPoint for six to eight weeks, while getting thrown into the middle of corporate America."
Wojciechowski was also chosen to be part of the pilot program for Microsoft's customer relations management team.
"That didn't go well because we didn't have a lot of cases," Wojciechowski said, explaining that teams without a lot of cases were downsized to make the numbers look better. "It is a very volatile workplace, and it is extremely numbers-driven," Wojciechowski added. "They want numbers to justify everything, and they don't really look at the situation or the team. What can you put into a PowerPoint to justify it?"
When it became apparent that Wojciechowski was next on the chopping block, he thanked his supervisor and resigned. He moved back home.
---
Back to school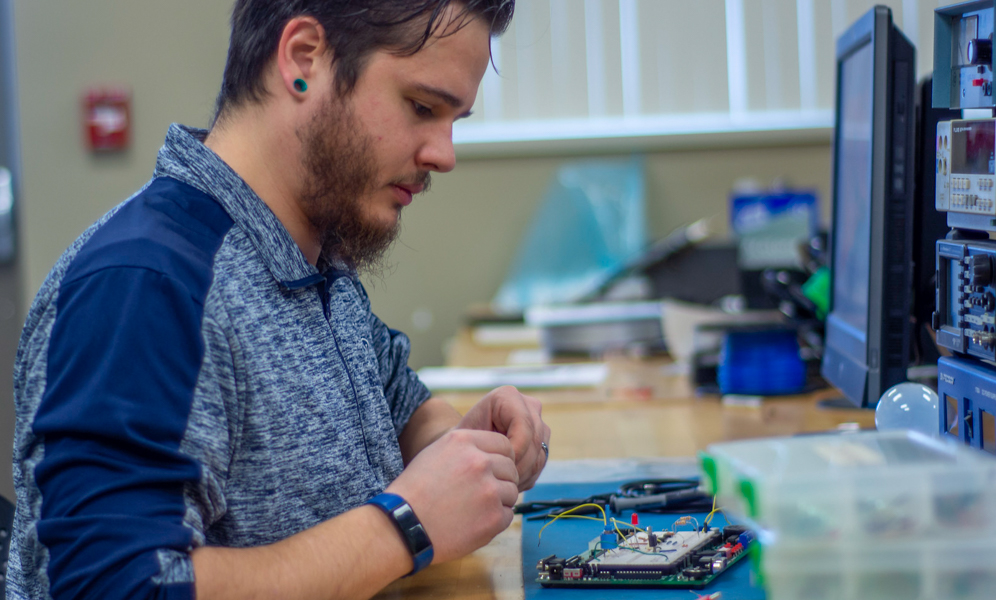 Wojciechowski's brother, Cody, and his brother's girlfriend, Kierstin, had just bought a house in St. Hilaire. Wojciechowski moved in with his brother to go back to college. He planned to pursue a degree in criminal justice and began working for the Pennington County Sheriff's Office as a corrections officer.
"That was when things started to get a bit rough," Wojciechowski said. "I was doing school during the day, and law enforcement at night and during my time off."
It was common for Wojciechowski to work a night shift until 5 a.m. and stay awake for classes that began at 8 a.m. He didn't really have time to drive back to St. Hilaire to change, eat, take a quick nap, and make it back to campus before the start of classes.
If Wojciechowski slept at all, it would be in his car for an hour or two before classes began. He would stay on campus for classes until 4 or 5 o'clock most days – and as late as 7 p.m. on days where there was skills training – before jumping into another night shift at the Law Enforcement Center.
"There were days where I wouldn't get sleep, or get an hour or two of sleep," Wojciechowski said. "Especially in the wintertime, it is really hard to sleep in a cold car."
Making matters even more challenging was the fact that Wojciechowski's part-time corrections job only paid enough to cover his bills. At one point, he had to take out an additional loan to cover his bills, and then he had to work more hours to pay off that loan.
"I started taking meals at the jail," Wojciechowski said. "I was eating whatever the inmates were eating. The meals weren't bad. "
---
Technical Scholarship Program
Wojciechowski's hard work paid off when he received his criminal justice degree from Northland in May 2016. He stayed on at the Pennington County Jail and looked for opportunities to advance his law enforcement career. He spent close to two years at the jail, leaving in October 2017 after being hired at Digi-Key.
Wojciechowski was very thankful for his co-workers, training, and experiences while working for the Sheriff's Department. However, he decided that it was not a viable long-term career. "Dealing with inmates constantly is not my favorite thing," Wojciechowski said. "The advancement opportunities weren't really opening up at the jail. I applied for a deputy position, but they already had a whole bunch of guys with experience also applying. After I was turned down, I didn't see that going anywhere and I didn't want to spend another five years working at the jail."
Wojciechowski's orientation at Digi-Key came on Oct. 23, 2017, which happens to be his birthday, and he has been with the company ever since.
Prior to taking the job at Digi-Key, he was working 12-hour days at the Law Enforcement Center (LEC) as a corrections officer and crew leader for juvenile Sentence to Serve, and on his days off from the LEC, Wojciechowski was working 12-hour days at Sanford Health as a security officer. One of the other security officers at Sanford also had a second job at Digi-Key and described a Digi-Key scholarship program that helps students go back to school to pursue a degree in electronics.
Wojciechowski applied for the Digi-Key Technical Scholarship in May 2018. He was one of more than 20 applicants for four scholarships.
"Somehow, I snagged one of those four," Wojciechowski said.
The scholarship is effectively an interest-free loan from Digi-Key to complete the electronics technology and automated services program at Northland. Students continue to work at Digi-Key while taking classes and begin paying back the loan.
Students who complete the program and meet certain standards are offered a position at Digi-Key in the application engineering department. Fifty percent of the loan is forgiven if students remain employed at Digi-Key for at least two years.
While he was going through the program, Wojciechowski also took other Digi-Key-related classes in addition to the ones for the Electronic Technologies and Systems program offered by Northland. He focused on business and liberal arts degrees along with his electronics technology degree.
"I have way more credits than a bachelor's degree," Wojciechowski joked.
Wojciechowski finished his law enforcement degree in 2017. He completed his liberal arts degree in 2019 and his electronics degree in May 2020, and he was five classes away from completing his business degree at the start of the 2020-21 school year.
---
Northland Clay Target
Like other non-traditional students, Wojciechowski had to find a balance between work and school. He's also been active in extra-curricular activities as a member of Northland's student senate, Book Club, and the college's clay target team.
Wojciechowski is the current student senate president for Northland's Thief River Falls campus. He is also the former treasurer of the student senate and president of the Northland Book Club.
This year, he also added clay target competition to his resume as a member of Northland's Clay Target Team.
"The first day is more of a sit-down with Rod [Head Coach Roderick Lahren]," Wojciechowski said. "He goes over the course rules and expectations – don't aim at anything that you don't intend to shoot, keep your gun pointed downrange, have the safety on, keep the gun unloaded until ready to shoot – just common-sense range rules."
Wojciechowski was experienced but hadn't shot trap since he was living in Moorhead and working at Microsoft. At the time, his team was made up of Microsoft employees and he fared pretty well.
"I was killin' it," Wojciechowski said. "I was getting 23, 24, or 25 out of 25 every time."
His teammates would ask Wojciechowski how he was doing so well, and Wojciechowski didn't have a good answer.
Wojciechowski's luck didn't follow him to the Thief River Trap Club and Northland's Clay Target Team.
"When I started, I was getting 17, 18, 19 on a good day," Wojciechowski said.
"Man, I'm doing terrible,'" Wojciechowski thought to himself. It was the same gun he used when he shot trap six years prior and he felt like he was utilizing the same techniques as he had before.
Wojciechowski credits assistant coach Zachary Habedank with helping him get more dialed in. Habedank noted that Wojciechowski was on target laterally, but he was shooting too high.
Wojciechowski initially thought the advice was odd since he hadn't really changed his setup, but he moved the gun higher on his shoulder and made some targeting adjustments.
"The next round, I just started nailing them," Wojciechowski said. "I shot 23 out of 25 in, the final round."
Wojciechowski's weekly scores improved throughout the season. After shooting a two-round score of 29 (out of 50) week one, he shot a 36 week two, followed by scores of 36, 38, and 40 the final week to end the season with a 35.2 average.
Sadly, Wojciechowski was unable to compete in the Oct. 13 MCAC Conference meet due to a scheduling conflict. He enjoyed being a part of the team and credits the head coach with making it a good experience.
Wojciechowski said there were some fantastic shooters on the team, including his cousin, Morgan Burns, Emma Jordet, Gunner Ferrier, Tanner Nordloff, and Treydon Carlson – all of whom averaged 42.0 or better out of 50.
"It was a very supportive environment," Wojciechowski said. "They definitely wanted you to feel comfortable with shooting trap and growing your skills. They weren't overbearing. They weren't rude."
"Roderick does a great job with communication and staying on top of things," Wojciechowski said. "He's funny, easygoing, mellow … good coach, always there to give constructive advice. I really enjoyed that. If I don't finish up my classes this year, I will probably join again next year."