After years of nursing, two-time Northland grad Rebecca Larson Isaak turned her childhood passion into a second career
By Ben Hanson
·
Photography by Chad Sperling
·
August 6, 2019
CALL IT YOUR GUT INSTINCT, your conscience or some sort of inner wisdom — that little voice inside your head has a funny way of never letting up. The struggle is knowing when to listen. For Rebecca Larson Isaak, that voice was unrelenting, and it's message altogether terrifying: give up your chosen career all the hard work you've put in… and go start an entirely new journey.
From the outside looking in, it didn't make any sense. In fact, Rebecca says her friends and family were shocked when they learned of her audacious plan to leave the safety and security of a well-paying job to start her own business. She admits she was plenty nervous too, but that voice kept nagging, forcing her to ask herself the pointed question, "Should I have done something else with my life?"
---
First, the Safe Path
After graduating from high school in 2006, Rebecca enrolled at Northland Community and Technical College. A native of Thief River Falls, she grew up close to campus and had heard her friends, family, and neighbors sing the praises of Northland for its combination of affordability, convenience, and high job placement rates. So, there wasn't much debate as to where she would continue her education. And, like so many college freshmen, she signed up for mostly general education credits without knowing exactly what she wanted to pursue.
"I always enjoyed taking care of people," Rebecca explained, "and I was always interested in the mental health field. So, I finally decided to go with nursing, because I knew it was a field with good job security, and I'd get to spend my days helping people."
After graduating with her Associate's Degree in Liberal Arts and then obtaining her LPN (Licensed Practical Nurse) license, Rebecca took a position working in the mental health field at Sanford Health in Thief River Falls. She spent six years as a nurse, loved the job and loved that at the end of the day she always knew she was helping people.
"One thing in particular that drew me to the healthcare field is that every day would be different and challenging," Rebecca said. "I wanted to be able to help people during their most vulnerable moments. I also loved that it gave me a chance to make a positive impact on others. I knew I wanted to work in the mental health field because not only is it fascinating but very important."
But… "I hated the stress of the job itself," she admitted, almost still exasperated. "I finally came to the realization that it wasn't what I was supposed to do, but I was scared."
While it is a dependable career rich in rewards and job security, nursing is not an easy profession. At the same time, the stress of the job started to wear Rebecca down, that voice inside her head kept getting louder, pushing her towards a decision she knew would be risky… but in her heart it felt right.
---
Letting Her Inner Child Lead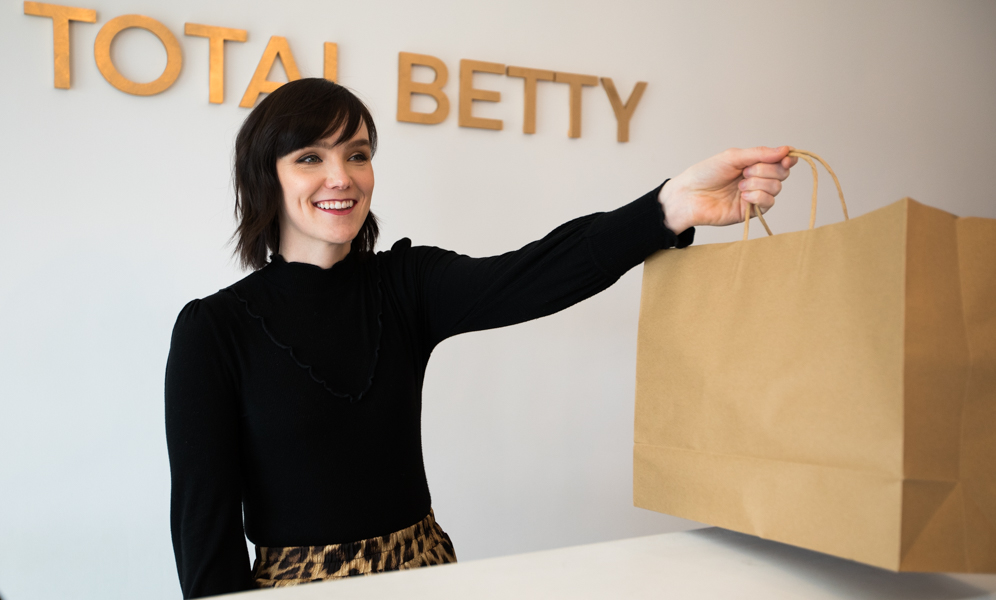 It's possible that voice isn't your conscience after all, but rather just your inner child trying to get you to take notice and refocus your attention on what truly inspires your deepest passions. For Rebecca, that certainly seems to have been the case, as the message trying to get through beckoned back to her favorite childhood memories.
"My love for Barbies started as young as I can remember," Rebecca said, full of nostalgia. "I was a little obsessed. In my eyes, Barbie was so cool because she did it all and looked great while doing it. She was a scientist, a teacher, a nurse, a rockstar, etc. I felt like it taught me that I can do anything."
Rebecca's love for Barbie blossomed into a passion for all things fashion. She and her older sister, Carissa, would spend hours playing dress-up with their large collection of dolls and accessories — their favorites being Totally Hair, Peaches N' Cream, and Barbie and the Rockers!
While the two sisters shared the same passion, it was their Grandma Betty who brought that passion to life and ultimately inspired Rebecca's second career as an entrepreneur and co-owner of Total Betty, the new women's boutique in Thief River Falls.
"She always looks great… she's the real fashionista," Rebecca said, giving her grandma full credit. "I always appreciated her style. She always takes the time to look nice."
Finally acknowledging the truth that nursing wasn't her true calling, Rebecca decided the time was right to get serious about making a change. Deep down, she knew she had always wanted to own her own business.
But what does a nurse know about running a small business?
---
Northland Grad: Round Two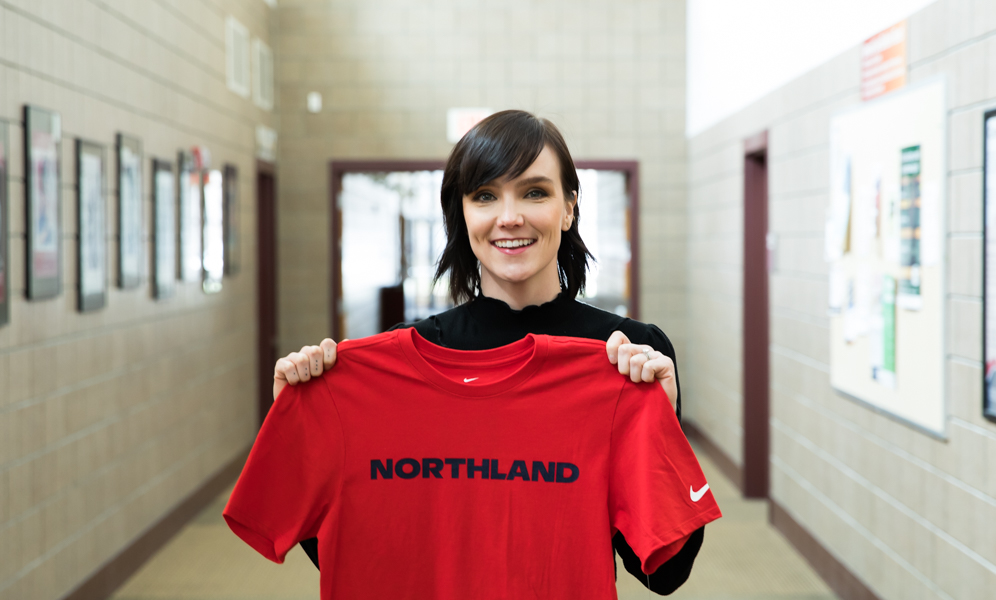 "While I was a nurse, in the back of my mind there was always that question of if I should have done something else," Rebecca said. "I knew in my heart that nursing wasn't what I was supposed to do. I kept fighting the thoughts of myself starting a business because it was risky. I didn't know a thing about business. But I slowly started to muster up the courage to quit nursing and go back to school."
Northland, once again, was the clear answer, welcoming Rebecca back to prepare for a second career. There she could get the training and learn the skills in marketing, advertising and business that she would need to launch the small business she had always dreamed of owning. She knew the risk was great, so when the decision was made, she went all in, quitting her nursing job before classes had even started in order to give it her full effort.
"I remember her being one of those consistent students who showed up every day, participated, worked hard and was pretty thoughtful in her discussions and interactions with both her classmates and with me, as her instructor," said Shannon Nelson, Business Instructor for Northland's Business, Management and Marketing department. "You get a sense when students are really there to try to get something out of the class, and I could see Rebecca had a bright future and had bigger and better things in front of her."
Northland caters to many non-traditional students, including those seeking a career change just like Rebecca. With evening classes, online courses and flexible instructors there to help students succeed — even if that requires a bit of creativity — Northland offers a warm welcome to anyone with a desire to learn. And post-graduation, instructors and staff continue to champion their graduates.
"I loved my teachers," Rebecca said, emphasizing the word love. "It was a welcoming place. Classes on campus and online helped if you had a really busy schedule. It was affordable and overall a great experience. I really appreciate the support of the Northland staff who were my teachers at one point, and now coming in as customers. They also help get the word out, which I really appreciate."
"For marketing, Shannon Nelson made classes fun and learning fun," Rebecca continued. "Her program helped me start my business, gave me confidence in everything that comes along, taught me the importance of social media, event planning, and top-notch customer service."
---
Realizing the Dream
Throughout her second tenure at Northland, Rebecca's goal was first and foremost to learn how to run a business. The idea to open a women's boutique in Thief River Falls wasn't yet on her radar. She knew she wanted to own her own business one day, but she remained grounded and took in all lessons offered by her Northland instructors, knowing it might be tough to walk through graduation and right into business. Total Betty, Rebecca's boutique, didn't come about until a chance encounter with an old friend from high school.
"Danielle [Carlson] randomly messaged me on Facebook, telling me she had moved to Thief River, got married and started a family," Rebecca recalled, speaking as if it was just yesterday. "She asked if I wanted to meet for coffee. She was just looking to reconnect and network, and as so often happens, one thing led to another and we just started talking."
As the two continued to talk about potential business ideas, Rebecca discovered her lifelong passion for fashion and beauty matched well with Danielle's own vision… and it was Danielle who helped come up with the name, Total Betty.
"I always wanted to have a store named Betty's, named after my grandma," Rebecca explained. "Danielle suggested Total Betty, which is kind of slang for 'total babe' from the movie Clueless. It basically means, beautiful inside and out, which is the perfect motto for our store."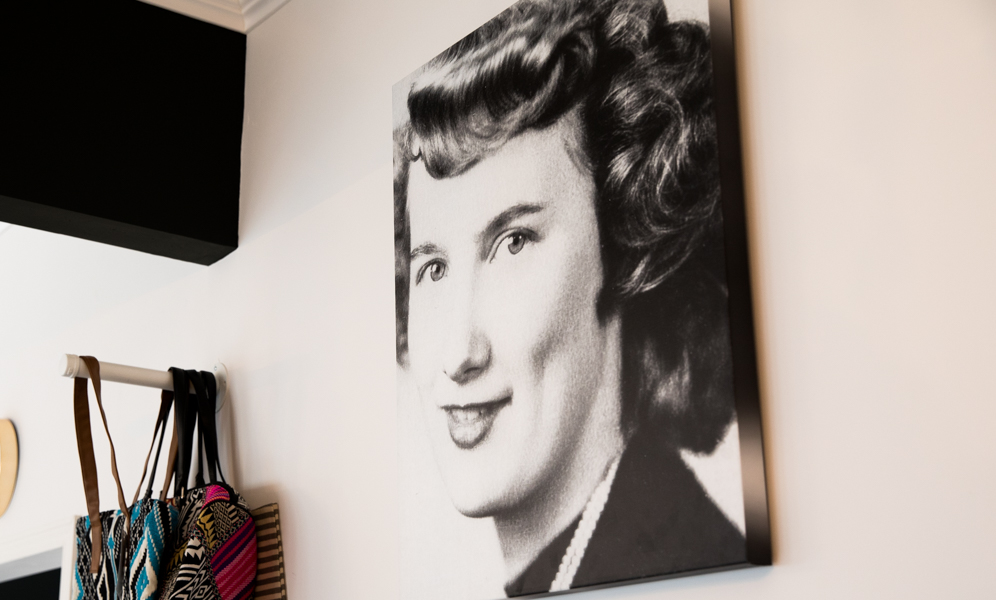 So, Rebecca and Danielle drew up a business plan, which started with a pop-up business first to get their feet wet and get to know the market. The two traveled around the region, attending local markets and setting up their trailer outside of businesses for a few days, relying heavily on the power of social media, word of mouth and good old-fashioned boots-on-the-ground hard work to get the word out.
As inventory would sell out, they'd order more based on what sold the best, all the while keeping their eyes out for an eventual storefront. They found (and fell in love with) a space at 1554 US Hwy 59 in Thief River Falls, Minn., and held a grand opening for Total Betty on Nov. 13, 2018.
"Business has been great," Rebecca said, almost with a sigh of relief after taking such a big risk. "We're getting wonderful feedback. People were ready for something new and fresh. We have it decorated with old black and white photos of my grandma Betty, which has turned out to be an emotional tie for many of our customers."
Nelson, Rebecca's marketing instructor, sees in Rebecca a familiar portrait of many other Northland students.
"She was able to benefit from the flexibility we provide at Northland," Shannon said. "She took some online classes, did some evening classes — that's the Northland advantage — you don't have to be the traditional student taking 15 credits during the day. You may have a family or a full-time job or have other obligations and still be able to go to school, even for a second go 'round."
Rebecca's second go 'round has proven to be a tremendous success in almost every way. She's sharing her passion with her hometown, has a business partner that makes going to work fun and Total Betty has received a warm welcome within the community.
"There's always risk," Rebecca said with a pause. "I am a nurse turned entrepreneur. But my advice is to follow your gut. Life is too short to not do what you truly want to do. Don't wait."