Northland Grad Alicia Backer Racks Up Professional Achievements & National Notoriety while Serving Her Hometown Community
By Ben Hanson
·
Photography by Chad Sperling
·
August 5, 2021
ON A RECENT FIVE-HOUR DRIVE HOME FROM A SPRING ROAD TRIP TO VISIT FRIENDS, Alicia Backer had plenty of time to think through what she might have done differently if given the chance to "do it all over," as they say. The pause was short but deliberate. The faint hum of highway noise in the background patiently waited to be interrupted.
"I can honestly say that I wouldn't change anything," she finally admitted with contentment in her voice.
That contentment is well deserved. Backer, a Physical Therapist Assistant (PTA) for Rehab Authority in Thief River Falls, was recently named Minnesota's 2021 Outstanding Physical Therapist Assistant by the American Physical Therapy Association, and she's been a featured speaker at several well-regarded national professional conferences.
"I'm pretty happy where I'm at, and the blessings life has brought me. The only thing…I maybe would have started being more active on that national level earlier on. It wasn't until a colleague of mine pushed me into it."
That colleague was Justin Berry, Alicia's influential former instructor at Northland Community & Technical College. Berry is the Physical Therapist Assistant Program Director and has been a mentor to Alica since she walked the halls at Northland. For the second time, that is.
"Alicia has kind of gone full circle with Northland," Berry explained. "She has earned two degrees—graduating in 2004 with a Liberal Arts Degree and again in 2010 from the PTA program. She also played basketball, has come back to coach, and has served a three-year term on the PTA program's advisory committee, ensuring our program stays up to date with contemporary PT practices and national trends."
As her drive continued into the twilight hours, Alicia recounted the full story of how she came to be a double graduate at Northland. It started—just like that drive—with plenty of time to think.
---
Once, Twice…Always a Pioneer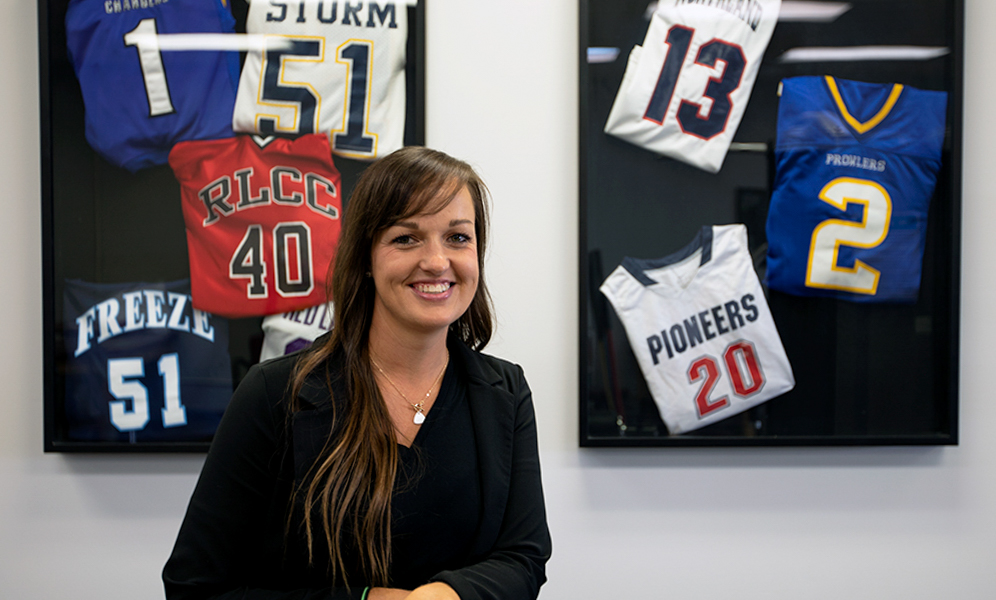 A self-described homebody who never felt the enticement of big city life, Alicia found Northland to be the perfect fit right out of high school. She's originally from Viking, Minn., a small town just northwest of Thief River Falls. But proximity to her family and friends wasn't the only motivating factor in her decision.
"My biggest thing was being in sports," Alicia said. "I played volleyball and basketball and wanted to continue. I didn't really know what I wanted to go into, but I wanted to keep playing. The life skills I learned from being on the [basketball] team and the expectations that come with being a student-athlete having to manage that work alongside the academics…if you have the opportunity to be part of an athletic program, do it. You will come out with lifelong skills you can apply to your everyday life, both personally and professionally."
Sports was the main draw to Northland, but once there, Alicia quickly discovered a home (not so far) away from home. Being from a small town, she felt at ease at a place where people recognized each other and called one another by name, including the instructors. It felt like home. It felt comfortable.
"That mental and emotional aspect of feeling comfortable was huge for me," Alicia said, almost with a sigh of relief. "The instructors were easy to approach. They knew who you were and were willing to be there for you as needed. They really made it easy to want to show up."
After graduating—the first time—with her Liberal Arts Degree in 2004, Alicia headed to Mayville, N.D., to explore a career in teaching. That's when life got in the way… or, rather, that's when life gave her the unexpected gift of time.
"I gave birth to my daughter and had some time to think," she recalled. "I decided that I like kids, but teaching wasn't the ticket for me. So it was really a blessing in disguise to have that time to think about what I wanted to do."
Even better timing, Northland's PTA Program was getting back up and running at the East Grand Forks campus at the same time Alicia was considering her next move. Remembering the positive experience she had during rehab for a second ACL surgery some years prior, one thing stuck out in her memory: the Physical Therapist Assistant.
"I had a PTA work with me when I had my second ACL rehab," Alicia said, "but initially, the closest schools were too far away from my family. So when Northland's program opened up here, it was perfect. That's how I got to Northland the second time!"
---
PTA of the Year (and More)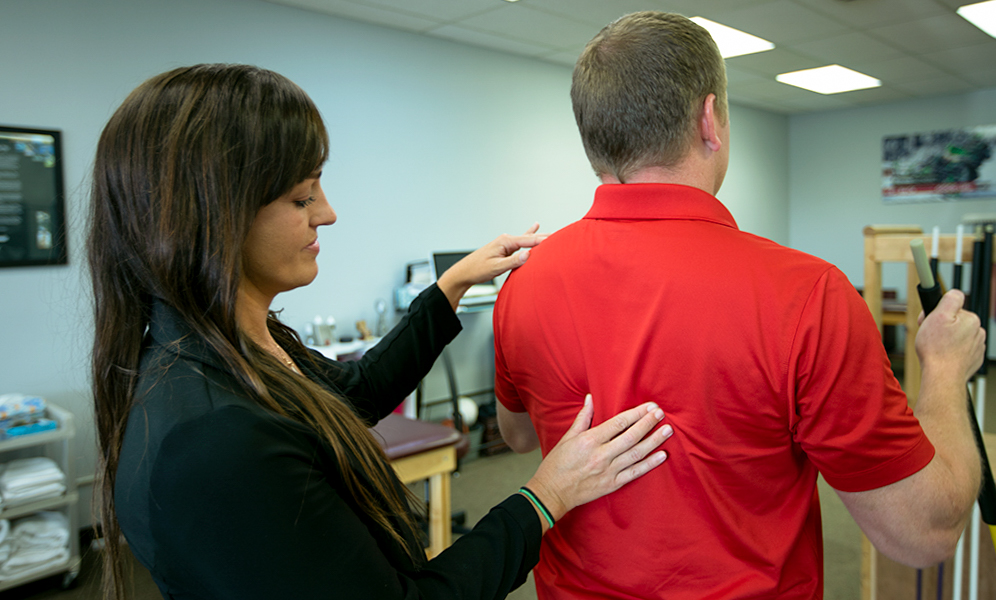 One of Alicia's favorite mantras is "never be a just a"—as in never label yourself just a Physical Therapist Assistant (as opposed to a real therapist). It's a mental leash that can trap a person into a pattern of never-ending comparisons with others. On the flip side, being aware of that trap can also provide a great source of motivation for self-improvement.
"I like excellence," Alicia said matter-of-factly. "I don't like not doing things well."
That inner drive for excellence has manifested itself in numerous professional awards and recognition that Alicia has earned over the years since discovering her passion for PTA work. But the accomplishments didn't start piling on until she found the right fit.
"When I started, I worked in a chiropractic clinic in Moorhead for three years," Alicia explained. "It was a small office and just wasn't the best experience because it was more focused on chiropractic care. I just love the interaction and working with people and seeing them through their journey. I wasn't getting that there. Plus, I always wanted to get back home."
After a couple of years with Sanford, she eventually took a job with Rehab Authority back in Thief River Falls as a PTA, working her way up to serve double duty as clinic administrator.
"What's really impressive about Alicia," Berry explained, "is her professional accomplishments. She has been awarded the administrator of the year twice at Rehab Authority, plus the big award she is getting now as PTA of the Year by the Minnesota chapter of the APTA. She's also very involved at the national level…more so than most PTAs ever are."
Part of coming back home to work was to be closer to her beloved hometown community. And part of that was Northland itself. With her love of athletics and an established relationship with Northland's Head Women's Basketball Coach, Shannon Nelson, it didn't take long for Alicia to plant the seed to get back involved with her other passion.
"I knew Alicia for several years," Nelson said, "and we had a need for someone like her. It's such a benefit to have an alumni as a coach because she has that understanding of what it takes to play at this level. She has that pride for the program and expresses that to our athletes. The nice thing for her is she's serving a completely different role, separate from her day job. She's not a coach because she's a PTA; she's a coach because of her understanding and love for the game of basketball. And being an alumni, she brings that additional pride and love and passion for Northland to the team."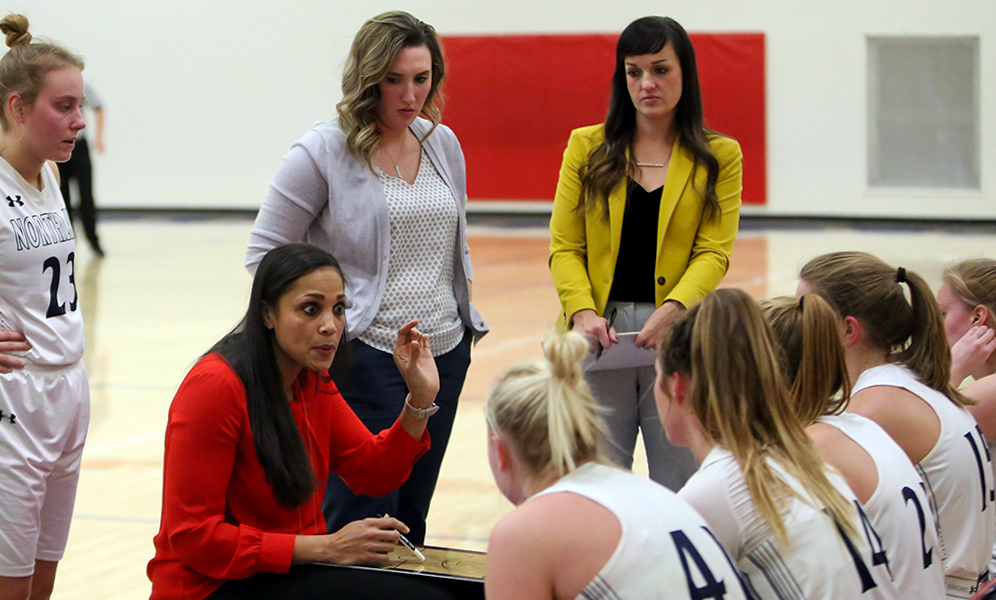 As in her PTA role, excellence was always Alicia's goal in taking on the role of coach. With her leadership on staff, the Pioneers played their way into the 2020 National Championship game. Forced to take the following season off due to Covid, the team is eager to retake the court to continue building on that success.
"I really admire Shannon's ability to influence the athletes and build something great with girls from all over the place," Alicia said. "I love when we get all these college freshmen…they come in like lost little puppies. By the time they leave, they're just different people, and it's fun to have that influence on them and help prepare them for life."
It's not terribly difficult to find a Northland grad with strong ties to campus. But Alicia Backer may stand alone in her enduring connection to her alma mater. Even when her PTA profile started to rise, reaching the national ranks, she still proudly shines the spotlight back on her home community.
---
From Northland to the National Stage
Back in the car on that drive home, the conversation shifted to everyone's favorite topic: public speaking. The rumor was Alicia had begun bringing her impact and influence to speaking engagements at national PTA conventions and professional conferences. So how did it come to be for someone who admits that the stage spotlight is far outside her comfort zone?
"Justin (Berry) is always pushing me to do different things," Alicia said, "encouraging the speaking events, reaching out to be on the PTA Advisory Committee. etc. But it was a colleague of mine that wanted to do a presentation with me. So we applied, got accepted, and I was like, 'Oh crap, there's no way out now!' When I commit, I gotta do it."
That innate drive for excellence backed her into a corner, but Alicia jumped right in and prepared a presentation with three other coworkers about creating a great culture in the workplace. Since that first mainstage appearance, she's gone on to other speaking engagements, has published articles in national trade magazines (and sits on an editorial board), and continues to make connections across the country, all for the benefit of her hometown clinic.
"It's just great that a Northland alum, serving a Northland community, is still able to impact the career field on a national level," Berry said proudly. "She's doing so much on a national level now but still maintains her close connections to her local community."
Coach Nelson echoes Berry's admiration for Alicia's ongoing commitment to Northland and her hometown.
"I think it's such a testament to the type of person that she is," Nelson said, just as proudly. "To have someone like that want to stay home and give back to her community and participate in programs where she went to school…she's just a great representative of our community, of Northland—athletics and academics—and of course Rehab Authority and her profession."
As you might expect, Alicia is not one to boast. She's quick to divert the praise onto her coworkers, her Northland instructors who prepared her for a sustainable and rewarding career, and the community she has no plans of leaving.
"I'm grateful for being around people who believe in me," Alicia said. "Northland gave me the close, comfortable family feel I wanted in a school, and I've stuck around the clinic I work in because the environment there is just as amazing. As a small-town girl at heart, I just love the community focus of it all…I don't have a reason to go anywhere else."