Nursing a Career: A conversation with RN student Sonia Dickmu
By Kelly Jordet
·
Photos by
·
March 3, 2022
Having a mother who was a dedicated nurse and midwife motivated Sonia Dickmu to join the nursing profession–first as a certified nursing assistant, then as a practical nurse. As Sonia now prepares to graduate from Northland's registered nursing program, she is poised to advocate further and care for her patients and her community.
Northland: Where did you grow up?
Sonia: I was born and raised in Yaoundé, Cameroon, which is a country in western Africa.
Have you always wanted to become a nurse?
I had initially wanted to be a pharmacist, but my experience with my mom as a nurse and midwife inspired me in many ways to develop an interest and love in nursing as a career. I realized she cared very much about people and always wanted to help. She took care of us very well and especially of her husband. Growing up in this environment, I developed in me a strong desire for a career where I can directly care for as many people as possible, and no other field fits this passion more than nursing.
After working as a CNA for several years, what made you want to advance your degree?
I worked as a CNA for nearly eight years. This job helped nurture my compassion and love for patients and deepened my passion for the field of nursing. My most rewarding moments were always those spent helping my patients when they needed me. I established relationships with my patients easily and would talk and sometimes pray with those who requested prayers. I wanted to seek an advanced degree to be better prepared to continue to assist patients in my field of nursing.
What has surprised you about the nursing field?
I have been surprised with the volume of study material included in the nursing curriculum and the hard work each nursing student is expected to put into studying, not only to be successful in board exams but to excel on the wards, helping patients. However, since joining the field of nursing, my interest in learning has grown and continues to do so.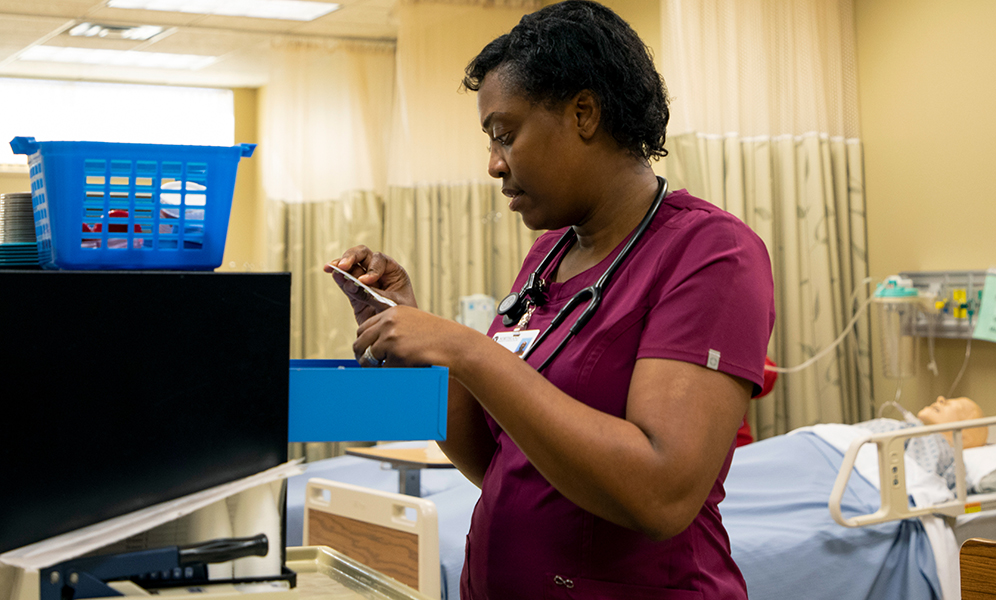 What area of nursing interests you most?
I am grateful for the clinicals we have done so far and the experience I have gained from the different units where I rotated. I am most interested in psychiatric nursing, med-surg, and possibly even nursing education.
In your opinion, what sets Northland's nursing program apart?
​I personally think the faculty members go out of their way to ensure the success of the students. They do everything they can to ensure that students learn, uphold their grades, and pass their [National Council Licensure Examination for RNs], NCLEX exam at the end. They create and keep an open and honest relationship with students and allow us to connect with them through emails, texts, phone calls, or zoom chat in other to make sure we get all the help we need, the best way they can. Northland's nursing program goes above and beyond to make sure the entire cohort is on the same page. The one-on-one support they provide to nursing students is what sets them apart.
What are your post-graduation career plans?
I would like to return to school shortly after graduation to get my BSN while working. After some time working as a nurse, I intend to apply to graduate school for the Nurse Practitioner program.
What other interests or hobbies do you have?
I love praying, helping others, tutoring, singing, cooking, traveling, and spending time with my family.
Tell us about your family…
My husband is a pastor in one of the churches in Grand Forks, and he is also a nurse. We have two daughters – a three-year-old and a 22-month-old.