These ladies aren't afraid to mix it up with the guys in clay target shooting
By Scott DCamp
·
Photos by Kelly Jordet
·
December 15, 2020
"WHEN I BEGAN SHOOTING IN PUBLIC, it was considered almost shameful for a woman to shoot. That was a man's business, you see," so goes a quote from sharpshooter Annie Oakley in the 2006 Autobiography of Annie Oakley compiled by Marilyn Robbins.
Northland Community & Technical College fielded its first clay target team in fall 2018–the same year the MCAC introduced clay target shooting as a co-ed sport–and female athletes have been a part of each team since that inaugural season. The team concluded its third season of clay target competition with the Minnesota College Athletic Conference Championship back in October. The virtual championship followed a five-week virtual regular season that saw a pair of Northland women finish the regular season in the top-10 of their division.
Emma Jordet, East Grand Forks, MN, finished fifth with a regular season average of 22.0 (out of 25), and Morgan Burns, Goodridge, MN, finished sixth with an average of 21.0. The ladies rank third and fourth in team average behind Gunner Ferrier and Tanner Nordlof, both of Baudette, MN, who averaged 23.0 and 22.7, respectively.
Shooting sports have traditionally been male-dominated and, to some extent, they still are. This year's 11-member roster includes three women–Emma, Morgan, and Shaylee Davis. All three have proven that they can handle a gun and hold their own in the world of competitive shooting.
"Once you go out there and show that you know what you are doing, they respect you," Emma said.
Shaylee, a newcomer to competitive shooting, said the team atmosphere was welcoming and supportive.
"We all competed on the same level and clay is just a sport that I feel you can really compete as an equal with the opposite gender," Shaylee said. "It is a great feeling knowing I am a female in a male-dominated sport because it shows girls can do whatever they want."
"I've never been treated differently for being a girl and shooting a gun," Morgan added.
---
Morgan Burns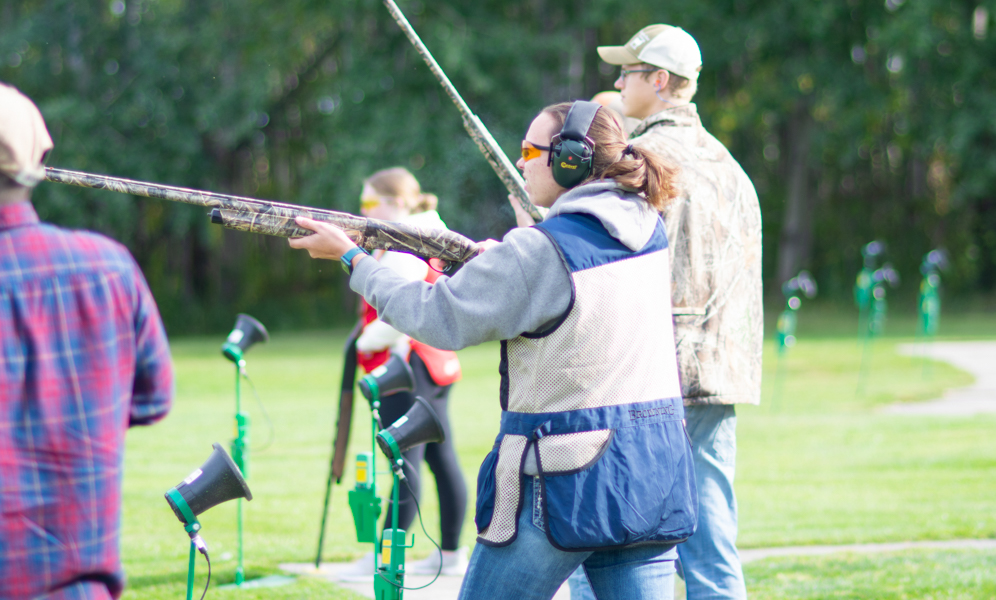 Morgan Burns is a 2020 graduate of Goodridge High School. She grew up in the Thief River Falls area and lived in Huron, SD, for nine years, before moving back to Goodridge five years ago.
Morgan played basketball through her junior year and ran track in seventh through ninth grade. She credits her father, Jeremy, and sister Paige, 15, with getting her into clay target shooting a couple of years ago.
Paige, Jeremy, and Morgan shoot in the summer trap league in Thief River Falls. Paige shoots for the Goodridge High School clay target team, with Jeremy serving as an assistant coach alongside head coach Sarah Panek.
In addition to competing for the Northland clay target team, Morgan began her coaching career earlier this year as a volunteer coach for the Goodridge team.
"I help out when I can," Morgan said.
In Minnesota, clay target is offered as both a fall and spring sport. Goodridge typically competes spring only, but this year, the school opted to participate in the fall season after the spring 2020 season was canceled due to the COVID-19 pandemic.
Morgan chose to continue her education at Northland because of the college's animal science program. She is currently in her first year of the program and plans to study animal nutrition at the University of Minnesota Crookston after her graduation from Northland. The chance to continue competing in trapshooting was a nice amenity.
"I kind of knew I was going to do it since I started my senior year at Goodridge," Morgan said. "I had a friend at Northland that was on the team who talked to (Coach) Rod [Lahren] and told them I was joining."
That friend was Alyssa Kasprick, who was the MCAC Western Division women's champion during Northland's inaugural season in 2018.
---
Shaylee Davis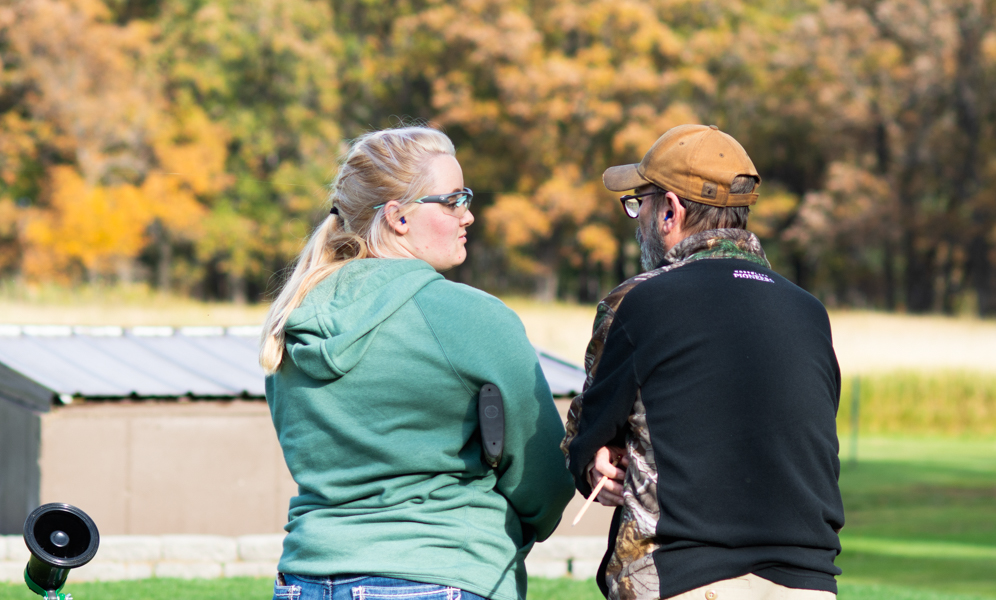 Shaylee Davis is a native of Richmond, UT, where she was a graduate of Sky View High School. Shaylee was a standout high school softball player, who also served on the leadership for FFA, and she was her city's youth council secretary.
Shaylee was recruited by former Northland Softball Coach Paul Peterson. She committed to the school this past spring to continue her softball career while studying animal science, and she credits Peterson with getting her into the clay target program.
"Paul encouraged me, and I have always hunted pheasant and grouse, and such, so I figured it could be fun.
When the MCAC canceled the fall portion of softball, it created an opening in Davis' schedule.
"It was something I have always wanted to do competitively, but never got the opportunity to try," Shaylee said. "Then when Paul helped me gain that opportunity, I took it. I've only ever played softball and I loved the thought of doing another sport I could be good at."
Despite being new to clay target shooting, Shaylee always felt welcomed by teammates and coaches.
"The Northland trap team was very inviting and although I kind of sucked in the beginning, I had some great coaches and teammates who were able to help me and give me tips, which improved my shooting almost 100 percent. I am very grateful."
---
Emma Jordet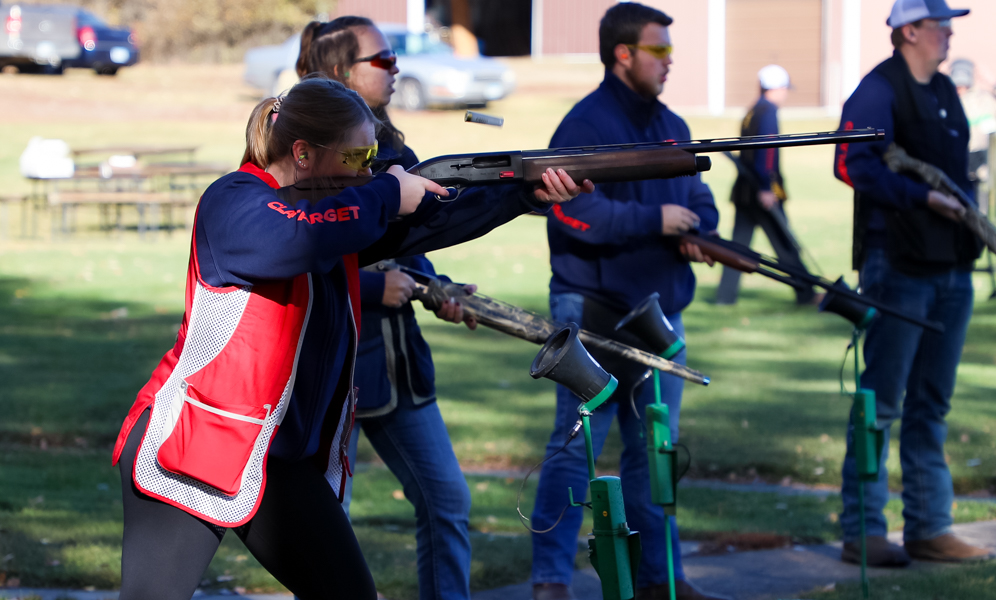 Emma Jordet is one of three sophomores on this year's clay target team. She grew up around guns, getting her first gun from her great-grandfather at 8, and participating in her first youth hunt at age 12.
Emma enjoyed hunting, but she was initially reluctant to join her school's trap shooting team when the opportunity first presented itself during her freshman year.
"My mom really pushed me to try it and I said 'no.' The next year, she said, 'You really have to try it.' I did and enjoyed it," Emma said. "Really, it's just a fun sport. It's obviously very competitive. You can be competitive or shoot for fun."
Emma may have been new to competitive shooting when she joined as a sophomore in high school, but she was no stranger to competition. Gymnastics was her original calling, and she gave 14 years to that sport after starting at age two.
"Too many broken bones," Emma said of her reason for leaving gymnastics. "It wasn't good for my body anymore."
Emma feels the mental side of the two sports is similar and it helped her transition quickly into clay target.
"You are definitely trying to not get into your own head," Emma said. "You can't think that you are going to do bad, can't think that you are going to miss a target."
Sacred Heart's clay target team is paired with Grand Forks Red River in a co-op that competes in North Dakota. Emma finished second at the North Dakota State Tournament in the novice female division as a sophomore in 2017. The following year, her first on varsity, she earned a top-10 finish; and she concluded her high school career in 2019 with a second-place finish at the Class 2A North Dakota State Tournament in the girl's varsity division after winning the division during the regular season.
Emma also competed in the North Dakota Amateur Trap Association series, which had a similar setup to the high school season with both virtual events and in-person tournaments.
Following her high school graduation in 2019, Emma chose to continue her education at Northland to pursue an RN degree. Getting a chance to continue competing in clay target shooting helped make Northland the perfect fit.
"It definitely was in the back of my mind because I could continue in it," Emma said. "I tried out for it, and (Coach) Rod [Lahren] really wanted me to join the team.
---
Clay Target meets
During a typical regular season, MCAC teams shoot two rounds per week over a six-week regular season. This year, athletes had two opportunities to shoot each week, with the goal to record five weeks' worth of scores by the MCAC's Oct. 3 deadline.
"This year definitely was different compared to last year," Emma said. "It was a very fast season because we had to get everything crammed in before state. It was hard at times."
Much like previous years, the regular season competitions were all virtual, with each team shooting at their own range.
"They are pretty fun," Morgan said. "We usually had our own squad – Emma, my boyfriend, Alex [Peterson], Drew [Anderson], Treyden [Carlson], and Shaylee."
Treydan, Emma, and Morgan all averaged over 42.0 or higher for their weekly scores.
"This year, we were very competitive against each other," Emma said. "We had some very good shooters. That really drove us against each other to want to outshoot the other person. We don't talk much outside of practice or competition, but when we were shooting, we clicked and pushed each other. "
Along with tracking season-long stats, the MCAC recognizes athletes who hit 25 or 50 targets in a row. In a typical round, each athlete shoots five targets at each of the five posts for a maximum single-round score of 25 or a two-round score of 50.
Morgan has come close to accomplishing the feat, with several 24-in-a-rows, but no 25s. For Emma, it was a similar story, until she recorded her first-ever perfect round during week three of the 2020 regular season.
---
MCAC Championship
This year's MCAC clay target championship was held virtually, with teams shooting a total of four rounds on either Oct. 13 or Oct. 14.
For Morgan, the chance to compete in a championship round was a rewarding experience that she missed out on during her senior year in high school.
"I like the championships; they are fun," Morgan said. "I only shot in one high school championship in Alexandria. That was my junior year. You get your own track house with your own school."
Windy conditions greeted the Pioneers for the conference championship meet and the conditions likely played a role in lower than usual scores for the Pioneers.
Morgan finished fourth among Northland shooters and 105th overall in the MCAC Championship with a four-round score of 78. Emma finished eighth among Northland shooters and 156th overall with a four-round score of 69. Shaylee did not compete.