OTA Brenna Tescher overcomes learning disability to help others live their best life
Brenna Tescher might be the most engaged listener you'll ever meet. When you speak, she listens. She listens with purpose. With practiced intent. As the words come out of your mouth, she sits across from you carefully parsing out the meaning behind each word, piecing together your message like a puzzle in her brain.
If it feels as if Brenna's hanging onto your every word, it's because she is. Her sometimes intense eye contact isn't meant to intimidate. It's a skill she's developed to help her follow the conversation and make sense of it all. While the rest of us can let our minds wander a bit and still track what's being said, a condition called auditory processing disorder forces Brenna to be fully engaged in order for her brain to translate sound into meaning.
According to the Learning Disabilities Association of America:
Individuals with auditory processing disorder (APD) do not recognize subtle differences between sounds in words, even when the sounds are loud and clear enough to be heard. They can also find it difficult to tell where sounds are coming from, to make sense of the order of sounds or to block out competing background noises.
"It's described as dyslexia through the ears," Brenna explained. "I got diagnosed with it in the fifth grade. When I talk, I slur my words or get my words mixed up. Also, when I hear you talk, my brain takes longer to make up all the words, and I can mix up what is being said."
Learning to Learn
As one might imagine, auditory processing disorder presents a serious challenge in the classroom. Growing up in a small town, learning services were limited at best, non-existent at worst. APD is also not a common condition—some estimates are as low as two percent of children are ever diagnosed—so accommodations are equally rare.
"In high school," Brenna said, "I had to fight very hard for all the accommodations I could get to help me in the classroom."
Linnea Schluessler, the Director of Northland's Academic Success Center, says while Brenna's condition may not be common, her challenges are shared by many students who utilize the center's learning services.
"Brenna's situation is one that I feel is not all that uncommon," Schluessler explained. "There are so many people in situations where they've run into roadblocks because they feel like they're stupid, but really they just need the access that other students have. Invisible disabilities [like APD] simply get overlooked."
"I came to campus right away—even before I started classes—to meet with the Academic Success Center at Northland, and they made it so easy for me to get what I needed."
In that regard, Brenna was lucky. She was diagnosed early enough to develop learning strategies that helped her graduate from high school and prepare for college. Almost more importantly, that early diagnosis allowed her to learn how to fight for herself, how to work with the tools available and be an advocate for her learning needs. So when it was time to enroll in college, she knew she had to take a more active role than the average incoming freshman.
"I came to campus right away—even before I started classes—to meet with the Academic Success Center at Northland, and they made it so easy for me to get what I needed," Brenna said. "At the beginning of each semester, we would go over previous accommodations to see if they were working or not, or what changes I needed. The center offers a lot of different options for managing everything. They'll work with you… you just gotta let them know what you need."
From Schluessler's perspective, Brenna deserves all the credit for her academic success.
"Brenna is a great self-advocate… a picture of self-advocacy," Schluessler said. "A lot of student success is contingent on self-advocacy, but nobody is ever taught how to do that. Brenna's a very strong self-advocate, understands what her strengths and weaknesses are and it's not a blame game with her or a case of her trying to get something for free to get ahead. She's incredibly intelligent but still ran into barriers—roadblocks that were easily surpassed by getting creative with her accommodations."
Occupational Therapy: Helping Others Overcome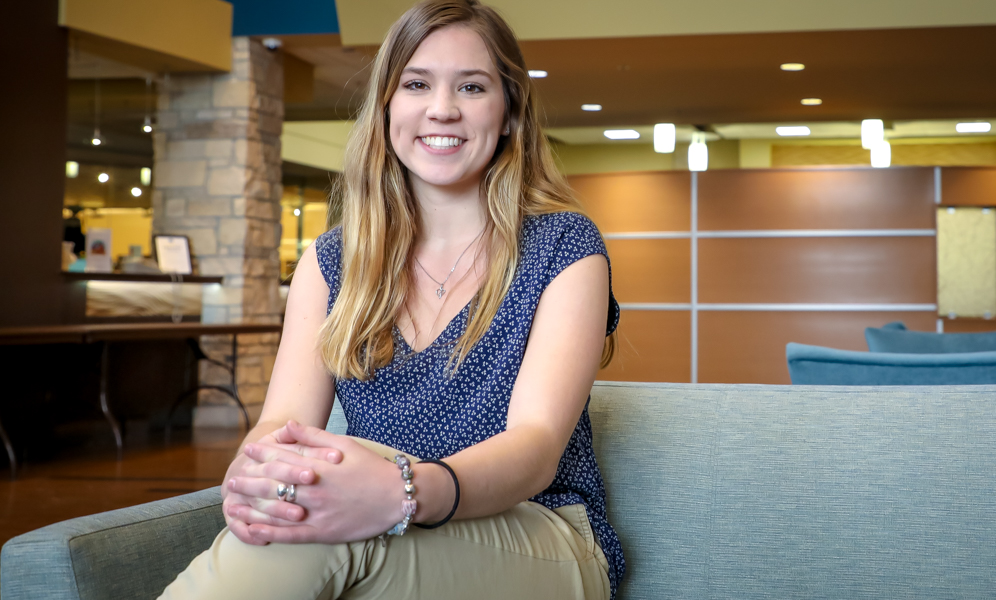 Before Brenna picked Northland Community and Technical College, she already had her future career picked out.
"A family friend is a Certified Occupational Therapy Assistant," Brenna explained. "I job shadowed her and just fell in love with occupational therapy. I love the aspect that you can work with really any age group from young children to older adults. It's also really client-centered, which means whatever you as a patient find important in your life is what we're going to work toward—if bowling is important to you and you just broke your hand, I'm going help you get back to bowling, starting with basics like putting on your shirt. It's really creative."
Occupational Therapy (OT) is the use of everyday life activities (occupations) with individuals facing various limitations, be they physical, mental or developmental. Occupational therapists and their assistants also provide therapy services to patients who face everyday challenges due to things like income, cultural barriers or the natural aging process. In many cases, OT is used to prevent disability and help patients maintain their normal, active lifestyle.
As the baby boomer generation gets older, OT is becoming one of the fastest growing sectors in healthcare. Unlike physical therapy that helps a patient recover mobility or range of motion after a broken hip, for example, occupational therapists and their assistants (OTAs) work on getting patients back to living their daily life.
OT also goes beyond the physical. "You have both physical and mental health aspects of occupational therapy," Brenna said. "When we work on the mental health aspects, it's about how to develop coping skills or even how to identify and develop new leisure activities. So, for example, if you're dependent on drugs or alcohol, that's all you do. That's all you know. That's where OT comes in to help develop new interests and maybe refine skills like money management or how to apply for a job that may have slipped while you were dependent."
"This career is very hands on and one-on-one, which suits me very well. It's also a huge reason why I decided to come to Northland."
Occupational therapy was the perfect fit for Brenna. Though the services and accommodations may fall under different names and classifications, her journey to overcoming auditory processing disorder is not unlike the challenges she will help her patients overcome as an occupational therapy assistant.
"APD played a big part in my career choice," Brenna said. "I knew I couldn't work a desk job where I'd have to rely on using a lot of technology or sit through big meetings. This career is very hands-on and one-on-one, which suits me very well. It's also a huge reason why I decided to come to Northland."
Choosing Northland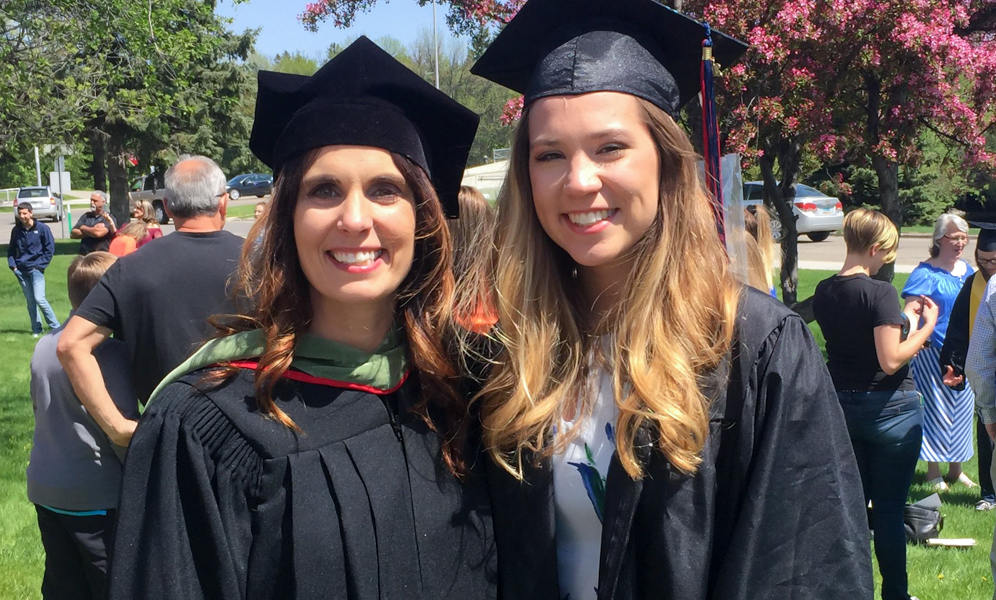 Hearing her speak about Northland now that she's graduated from the Occupational Therapy Assistant program with her A.A.S. degree, it's surprising to learn that Northland wasn't Brenna's first pick for colleges. Her initial plan was to head south… well, not that far south.
"I originally was not going to go to Northland," Brenna admitted with a chuckle and a hint of embarrassment at the revelation. "I had a guidance counselor in high school who talked about different colleges and had me apply to Northland just to work through the application process. But I went to visit the other school, which was my first choice, and it just did not feel right."
After a bit of further research, Brenna discovered what her gut already knew. Northland graduates have some of the highest pass rates for the national board exams required to enter into the profession. When she got into the program, she got to see first-hand why Northland produces such high-quality OTAs.
"Kara Welke, one of the instructors, is very passionate about her job," Brenna explained. "She loves occupational therapy and loves teaching. She's a hard grader, but she wants you to understand what you did wrong so you can fix it."
That in-depth instruction served Brenna well in her fieldwork (think: internship, but in a healthcare setting). When she would make rounds with her supervisors, she would often be a step ahead of the discussion—a somewhat ironic moment of pride for someone with auditory processing disorder, who often must work harder than others just to keep up with the conversation.
"When I went on my Level 1 fieldwork, my supervisors were always surprised by how much I already knew," Brenna said. "They explained a lot to me, but I also added on to what they were saying because I knew what they were talking about. Supervisors always made comments like 'Wow I can't believe you're already doing that in school.'"
Northland prepared Brenna for a successful career as an Occupational Therapy Assistant in two very important ways. First, her instructors pushed her to excel. "They pushed me to work as hard as I could… they really prepared me for what actually happens on the job," she said. Second, the very setting of a small community college allowed Brenna to learn in a supportive atmosphere that is hard to find at a big university.
"There's so much pressure to go to a four-year. … And I don't need a four-year degree. What I accomplished is exactly what I set out to do… and I came out of college debt-free."
"I would not have done as well in a big classroom," Brenna said. "At Northland, my biggest class was 20 students. At a big college, I wouldn't have had the accommodations or be able to meet with my teachers as much as I could. Plus, when you get into a program, you meet best friends… you meet friends who will be with you throughout the whole program."
When asked if there was anything she missed out on by not going to a bigger school, the answer was a quick "no."
"There's so much pressure to go to a four-year," Brenna said. "But I wouldn't have survived at a four-year school. And I don't need a four-year degree. What I accomplished is exactly what I set out to do… and I came out of college debt-free."
On the Job: Making an Impact from Day One
Before graduating in late 2017, Brenna completed months of fieldwork — on-the-job training provided by the Occupational Therapy Assistant program. She then spent about two months studying for the board examination to earn her license before she could officially begin her OTA career. Finishing her fieldwork, passing her boards and walking through graduation all went smoothly. But then it came time to find a job, which proved to be a bit more challenging than anticipated.
"Well, my boyfriend moved to Williston, ND, so it wasn't really an option for me not to also move," Brenna said with a chuckle. "When I started to look into finding a job out there, I didn't find much. There aren't a lot of job opportunities in smaller communities, but then I stumbled upon this private practice called Chatter Pediatric run by a team of 12 women all specializing in different forms of therapy, from speech therapy to OT, mental health and nutrition."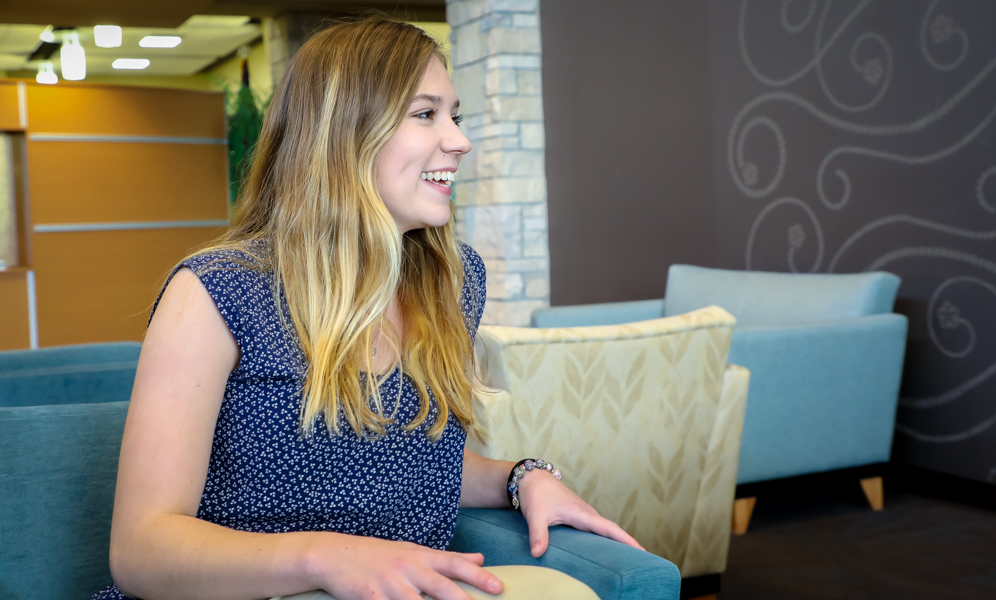 Brenna did her homework, studying up on the clinic, its mission, and scope of services. She fell in love with the place before ever setting foot inside. The only problem was Chatter wasn't hiring. So, as she's done so many times in her life, Brenna took the initiative to create her own opportunity.
"The job I have now…," Brenna started explaining, "they created the position for me. I found the clinic and just decided to contact them. I did some research on them and decided it was something I wanted to be a part of, so I contacted Katie, who would become my boss, and she said we're not hiring but come on in because we want to talk to you… I went in, talked, got a tour of the building and she contacted me a week later to let me know she created a position for me."
"Northland sent me on fantastic field work that gave me experience with kids and adults … So when I started, I was given the freedom right away to treat my patients how I was trained to treat them."
Unlike your typical desk job that requires a few weeks of on-the-job training and orientation, Brenna discovered yet another perk to her chosen profession — she was able to make an impact starting immediately on day one thanks to her training and fieldwork experience provided by Northland.
"When I interviewed, I talked about my classes and my fieldwork experience, which gave me a huge advantage," Brenna said. "Northland sent me on fantastic field work that gave me experience with kids and adults, and I had a background in psych and mental health, which really helped, too. So when I started, I was given the freedom right away to treat my patients how I was trained to treat them."
At Chatter Pediatric, Brenna has found yet another home away from home. Much like her experience at Northland, she's surrounded by a small team of caring, dedicated professionals. They treat their patients like Northland treats its students, with their best interests at the center of every plan.
"I would say it's better than what I expected," said an excited Brenna when asked about her first few months on the job. "I had the mindset that I knew I was going to like what I did, but I didn't know I was going to like going to work as much as I do. Getting to see these kids and having the creative freedom to do what is right for my patients, it's a huge part of being an OTA, so it's actually better than I imagined."