From Somalia to Kenya to Northland, Kamaludin Ali Never Let Opportunity Pass Him By en Route to a Career in Law Enforcement
By Ben Hanson
·
Photography by Scott DCamp
·
July 22, 2020
HE STRUCK ME AS A LEADER RIGHT AWAY. He just carried himself in a way that was very self-disciplined and goal-oriented, and students seemed to look up to him. So I made him a class leader right off the bat."
Strong praise coming from James "Jim" Jesme, long-time Law Enforcement Instructor at Northland Community & Technical College and veteran peace officer. With his years of real-world experience in the field, as well as in the classroom, Jesme has a keen eye for leadership, and he saw in Kamaludin Ali a leader ready to step up to the challenge.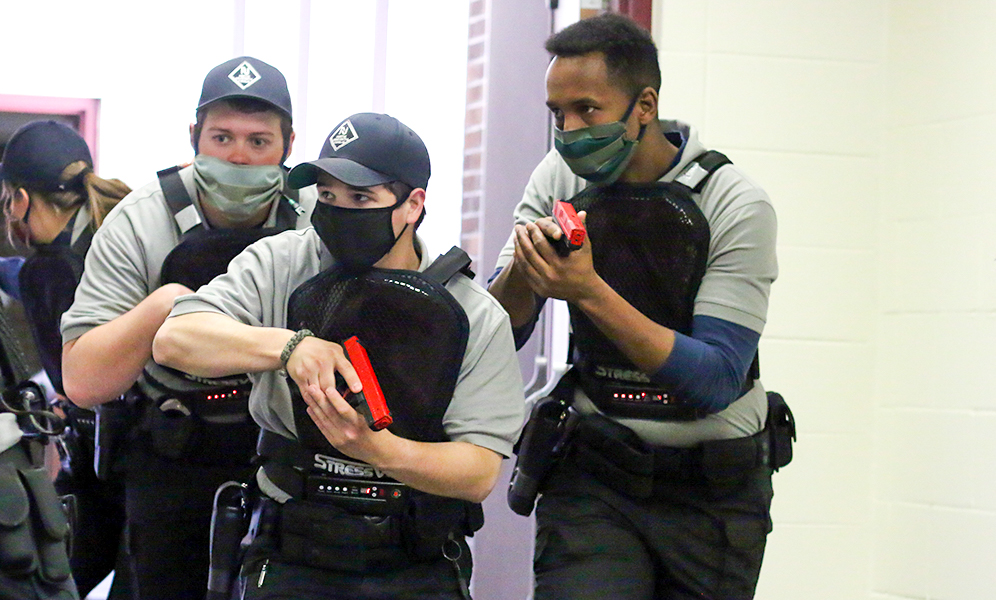 Ali, as his friends and peers call him, has spent the better part of the last decade earning his place by setting goals, outworking his peers, and taking every chance to improve himself and his position. As a new American who first came to America from his native Somalia by way of Kenya in 2015, Ali is no stranger to challenge.
He taught himself two foreign languages to get where he is today. As a teenager, he spent years alone with few friends and no family by his side for support. When he did make it to America, his mother quickly kicked him out on his own (more on that later).
"
What he had to go through just to get here… he makes other people better just being around him.
Jim Jesme – Law Enforcement Instructor, Northland Community & Technical College
"
"He's one of the rare ones," Jesme proudly stated. "He will always stick out in my mind. What he had to go through just to get here… he makes other people better just being around him. It's very nice to see, especially going into this law enforcement business. He'll carry that forward when he's wearing a badge."
---
Coming to America
Born in Mogadishu, the capital city of Somalia, in 1994, Ali first had to make his way to a country with a US Embassy, where he could petition to enter America. Kenya was the nearest option. So in 2010, he began what would be a years-long journey to reach the United States and reunite with his mother.
"When I got to Kenya, there was no family," Ali explained. "I had a couple of friends but no skills to do anything at that moment."
Not only did he lack the skills to support himself, but he also didn't even know the native language. English would have to come later. To survive this first stop and apply for his visa, Ali had first to teach himself Swahili. After a year of acclimating to his new temporary home, he got to work in order to survive the years it would take to earn his credentials before moving to the states.
"After a year of being [in Kenya], I started ironing ladies clothes," Ali said. "After six or eight months of that, I started sewing the clothes myself and went upward with skills. Then until I came to America, I was sewing clothes for anyone who wanted clothes."
With his sights squarely set on America, Ali spent much of his free time teaching himself English — at least enough to hold a conversation. His tutor? Walt Disney.
"We had like five people living in the same room, and I watched the most TV," Ali said, laughing as he started to relay the story of his first English language lesson. "We had the Disney channel on my TV… Hannah Montana and Wizards of Waverly Place! It was awkward, but I learned English from them. I met a Somali lady once, and she was speaking English to me… all of a sudden I started speaking English back. She asked how I learned, and I said, 'I watched movies!' It was a very fun experience."
In all, Ali spent five years living and working in Kenya… and waiting for the US government to grant him his visa. When others of weaker spirit and limited motivation may have floundered in self-pity, Ali was determined to advance, never letting pass an opportunity to improve his situation and chances for future success.
"
You cannot just sit there and complain about your situation. The situation already happened, so it's about 'What can you do? What opportunity can you make?'
Kamaludin Ali '20 – Law Enforcement, Northland Community & Technical College
"
"I spent five years by myself," Ali said softly. "But I know wherever you live, you can get opportunities… but you have to take the chance to do things. You cannot just sit there and complain about your situation. The situation already happened, so it's about 'What can you do? What opportunity can you make?' When I was in Kenya, I was there… What can I do? I didn't have any technical skills or degree, so I had to become a laborer."
Manual labor was Ali's first means upward toward the future he wanted for himself, his community, and his family. Shortly after arriving in America in 2015, it was family that provided the necessary, if not blunt, push he needed to take the next step in his new American journey.
---
A Quick Push Out of the Nest
"When I came to America, the only thing I was thinking was to go and start working right away," Ali explained. "Back home, you think of people waiting for you to help. Thankfully, my mom was like you can go to a labor job and have back pain after you hit 40, or you can go to school and get something that's worthwhile. So I decided to go to school."
But for school to be realistic, Ali still needed a job to support himself. It took him six months to get a green card, which would allow him to work, at which point his mom spoke up again… this time with an even stronger push.
"When I got my job at FedEx — and I still work there, my first job — my mom looked at me and said, 'You gotta go, you're moving out of the house!'" Ali said with a big laugh. "So I got an apartment in 2016.  When she told me I had to move out, it made me realize I'm a grown man. I was living by myself in Kenya, too, so it wasn't difficult for me. I was very thankful for her to guide me to school and telling me to move out to help myself up."
With a job, an apartment, and a clear directive, Ali's next stop was Northland Community & Technical College to begin his formal American education. Like any new student, he was welcomed to campus with open arms, but also greeted with another challenge to overcome.
---
'The Best Thing That Happened to Me'
Growing up in Somalia, Ali had earned a high school degree, but his diploma was not recognized here in America. At his first meeting on Northland's campus, Ali learned he would need to enroll in adult education and obtain his GED in order to enroll in college courses — a minor hurdle for a determined man.
"It took me six months to get my GED… got it in June of 2016," Ali declared. "The following fall, I applied for Northland and was accepted!"
At this point, Ali's story turns into that of a typical first-year college student. His career goals still uncertain; he did what most freshmen do — he signed up for some general education courses to get a sense of his options.
"At first, I didn't know what I was trying to become, so I decided to do my generals," Ali said. "Northland was the best thing that happened to me. I have nothing to complain about. They welcomed me. They gave me an opportunity to get a GED, a degree, and a diploma. I could never repay all they did for me. It was all very pleasant."
In his typical high-achiever fashion, Ali cruised through his schooling, but found himself with a degree and still no clear understanding of where his passions lay.
"I ended up finishing a degree in December of 2018, earning my Liberal Arts Degree. I took one semester off to think about what I wanted to do next."
What came next shaped Ali into the natural leader he was born to be. He found a mentor, signed on for more classes, and began training for a career in law enforcement.
"I came back in 2019 and went to see Mr. Jesme," Ali announced. "We have a big Somali community in East Grand Forks, but a lot of people don't understand the language. There is a barrier between the community and police officers. If something happens, there is usually no way to communicate. I thought I could help my community while also doing good in society, so I applied for a criminal justice degree."
---
Training During a Pandemic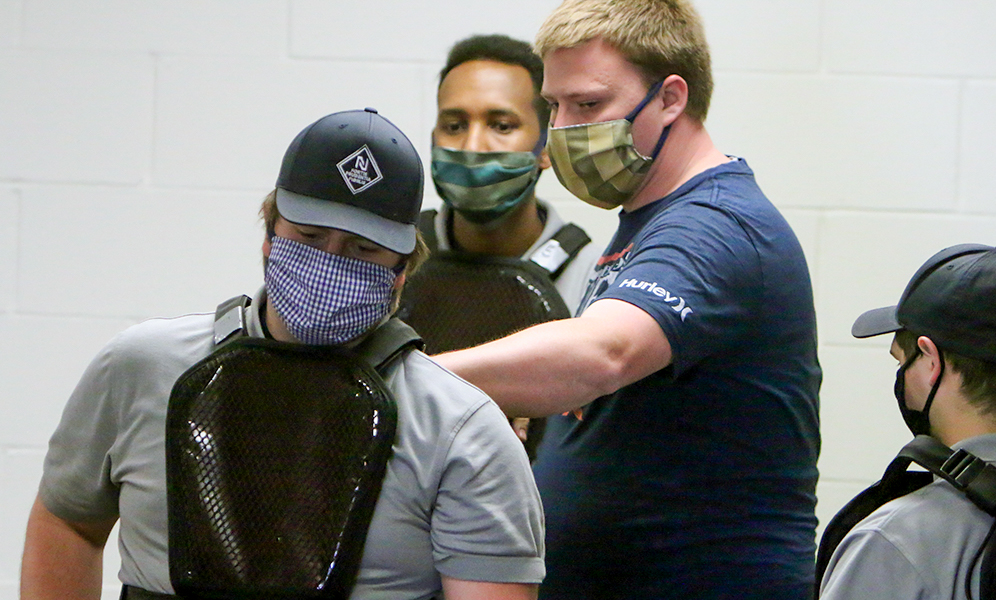 As if Ali hadn't already faced enough hurdles on his path towards his American dream, partway through spring semester 2020, the world woke up to the looming threat of a global pandemic in the name of Covid-19. Schools shut down. Businesses shut down. Everything suddenly got put on hold.
For most institutions of higher learning, the shut down turned permanent, with classes resuming only online. Northland, however, has been well situated to be flexible in times of challenge, and the law enforcement program under the leadership of Jim Jesme would turn into a shining example of how a school can adapt to continue serving the needs of students, employers, local communities and the greater economy.
"We were kind of ready to go for this situation already," Jesme said, "so the only thing I had to add was the Zoom portion and a few more materials to the assignments. We adapted really well. Law enforcement is a person-to-person type of job, so the delivery method wasn't my first choice, but we adapted well. We did some test runs with technology to work out the kinks, and my students helped me with some issues, too, so it was a collaboration."
Jesme adapted the rest of his curriculum to adhere to the new safety rules of social distancing. He added some online training to augment the otherwise hands-on training, so when students showed up to demonstrate their skills, there was minimal time needed in the classroom. Thankfully, the defensive tactics portion of the program — "where everybody gets sweaty" — had already been completed.
According to Jodi Stauss-Stassen, East Grand Forks Academic Dean, the decision to bring back the law enforcement students specifically was made mid-April. Administrators and instructors worked with the state-wide system office and implemented guidance from the Department of Health to bring students back starting April 20.
"Jim worked amazingly hard to keep his group numbers small and almost worked around the clock from April 20 to May 17 to get his students finished up and eligible to graduate and take their peace officer exams. This program, in particular, was able to come back because it is a critical sector career. And it turned out to be a model for how we can operate going forward, and it worked so well that it opened the door to bring other programs back."
"I ended up only going into the weekend after graduation," Jesme said with a hint of well-earned pride. "The students really stepped up — they wanted to get this done, and they were all on board. There was no complaining, they were like "let's do this," and we explained to them this is going to be life in law enforcement. We're problem solvers. This was a good test, and they were able to deal with it. My hat's off to the students who graduated this year."
---
Gratitude for Northland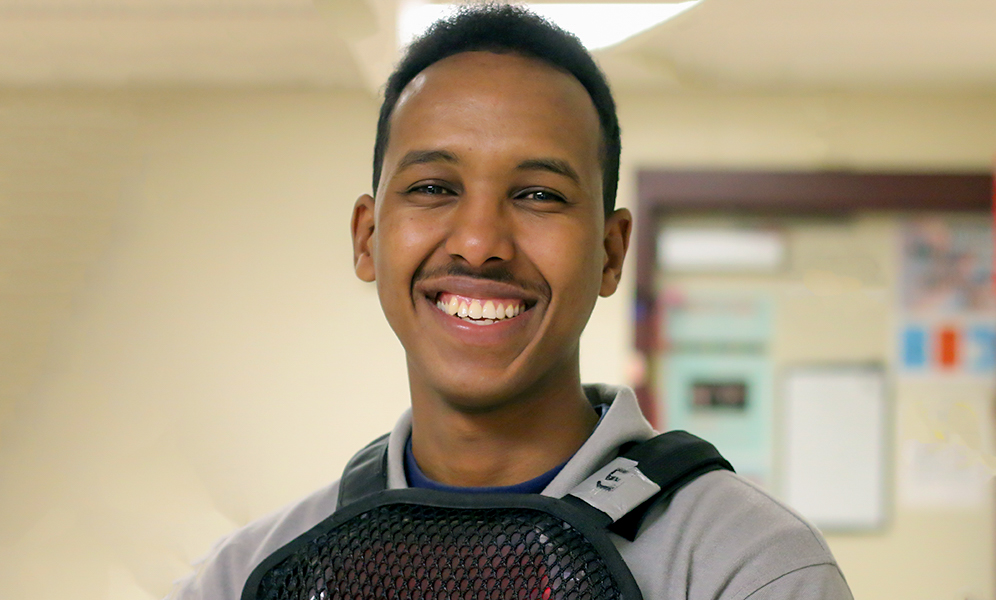 To listen to Ali, tell of his time at Northland, is like listening to a paid spokesperson making a pitch. But it's such a common theme shared by so many Northland graduates — and by staff, instructors and administrators alike — that you can't help but fully buy into the altruism these stories relay about the devoted community college.
"Northland is a small school," Ali started out. "You can get one-on-one help with the instructors and advisors. They are always there for you — everyone wants you to succeed. A lot of people try to run out of college as fast as they can, but I actually miss my teachers and classmates. You can judge how valuable the experience was by how much you miss it when you leave."
Ali continues, framing his experience at Northland from his perspective as a new American…
"People like me who come to this country… they will benefit more because there is a base of people [at Northland] who will teach them how to integrate into the school systems in America… all the way to a college degree."
As much gratitude as Ali has for Northland, those who crossed his path while there seem even more grateful to have had the chance to be a part of his story. As Jesme said, he makes you better. His strength rubs off on those around him. His attitude inspires.
"No matter where you live," Ali proclaimed, "opportunity is there. If you want it, you just have to go and get it."