"My hope is to inspire other people to feel empowered–get motivated to make a change in their lives if they want to."
By Kelly Jordet
·
Photos by Kelly Jordet
·
December 13, 2019
Her drive to seek new opportunities in America parallels past generations of immigrants that came to this country—immigrants that transformed and shaped our communities. Naima Haji hopes to inspire others by sharing the extraordinary path she's taken since landing in East Grand Forks.
With her infant son, Naima immigrated from Kenya to the United States in 2017. Upon settling in East Grand Forks, she did not wait long to seek out the educational opportunities that were available to her. Haji first explored an American education through Northwest Service Cooperative's Adult Basic Education (ABE) program housed on Northland Community & Technical College's EGF campus.
"I was determined to get my GED," explains Haji, "but I knew I could do more, so I also pursued a Minnesota adult high school diploma." According to Haji, American education is not entirely unlike that in Kenya. "I was lucky to have had an education in Kenya," shares Haji, "learning English was the challenge to overcome." Determined she was, Haji completed both her GED and high school diploma in only one year.
Following graduation from her ABE courses, Haji threw herself into college, enrolling in classes at Northland. "I loved the atmosphere at Northland," Haji shares, "the classes are just the right size and faculty are very accessible. That was important to me."
With no lack of self-confidence, she knew her talents lay within the business field. "I have always had a knack for business," states Haji, "My passion for business comes from my mother's side of the family. Her entire family were business owners. When I was young, I would help my mother in her store by counting money and doing odd jobs." Naturally, this passion and experience would lead to Haji starting her own business.
Haji began making her mark in the community last year as she launched Ahna Natural, an all-natural skincare line that offers scrubs, masks, and creams. "I wasn't afraid to start my business before completing college. With no risk, there is no reward," Haji emphatically states, "I hope to cultivate my business over time while I'm completing my education. As I learn new things, new methods, I implement them into my business model. I want others to realize that they can be an entrepreneur too. It's not difficult, but it takes a lot of hard work and a lot of belief in yourself."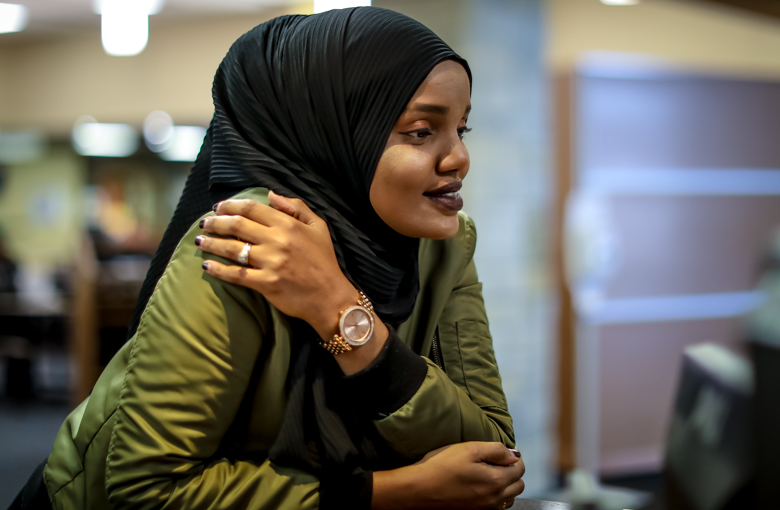 Northland has also offered the opportunity for her to be active in student life. Haji is involved in Student Senate, serves as the Young Professionals Club president, and is a founding member of the Multicultural Student Club. "I thought Northland needed a club that helped spread awareness of the challenges that international students face. Also, we're able to learn more about our community and its customs and traditions," explains Haji. She also works at a tutor in Northland's Academic Success Center.
For her incredible dedication to her education, college community, including promoting diversity and inclusion, Haji was recently awarded the LeadMN Mark M. Welter World Citizen Award. LeadMN represents 180,000 two-year college students in Minnesota by sponsoring opportunities to develop leadership skills to realize their potential, see beyond what they thought was possible for personal success, and to drive community-wide change. A $500 scholarship accompanied this prestigious award.
In addition to school, club activities, and her business, Haji is a wife and mother who is about to give birth to her second child in February. "People always wonder how I balance all my responsibilities," shares Haji, "I couldn't do it without the support of my husband, Ahmed. He is my biggest ally. And really, it is about prioritizing your life."
Northland was the perfect place for Haji to begin her career as a student. "With all of my family responsibilities–about to have a baby in February–the faculty have been very accommodating." she says, "I am taking full-time credits in the spring, and not one instructor has been unwilling to work with me when I have to take time off for the baby."
"My hope is to inspire other people to feel empowered–get motivated to make a change in their lives if they want to," Haji declares, "It doesn't matter if you have kids, need to work, or have other responsibilities–start slow with one or two classes at a time."
Reflecting on her journey, Haji says, "I am happy I found Northland and this community. Moving here has offered me many opportunities. Also, my children will have those same opportunities as they get older." Haji indeed has big plans for the future. After graduation from Northland, she plans to transfer to a university to pursue her MBA.