Michelle Stadstad honors son's memory with midlife career change
When she walks into the room, the first thing you notice about Michelle Stadstad is her smile. It almost beats her there, entering a split second before she rounds the corner to introduce herself. It's a warm, welcoming smile that completely disarms you. Stadstad has a natural gift for putting you at ease, a trait well-suited for her day job.
Her new day job, that is.
The 54-year-old wears scrubs these days as a nurse for Altru's orthopedic same-day surgery unit in Grand Forks, ND. It's still a relatively new look. For the 25 years prior to earning her nursing degree from Northland Community & Technical College, Stadstad helped lead the UND Alumni Association as a development officer. It was a job she admits she never thought she would leave.
"I had an unbelievable job," Stadstad said, as the smile returned to her face. "I loved, loved, loved my job. But I had to let it go."
Eight years ago, at age 46, Michelle Stadstad left a decades-long career behind, gave up a job she loved and said goodbye to coworkers who had come to feel like family. Without knowing her, you might question her decision to make such a big change. Nursing is about as unrelated to fundraising as it gets. Even her friends wondered aloud if it made sense. But, as Stadstad tells it, God had a new path for her to follow. She knew in her heart it was the right change at the right time… and timing, it turns out, had everything to do with it.
Devastated By Loss
Jason Stadstad, Michelle's firstborn son, died on December 17, 2006, after a long struggle with brain cancer. He was just 19 years old. With grace, faith, and courage, he fought off the disease for years. The community of Grand Forks rallied in support of Jason and his family, and still do. To this day, The Herald Jason Stadstad Hockey Classic honors his memory (and love of hockey) with an annual tournament to raise money for charity.
Throughout her son's battle, two things continuously uplifted Michelle Stadstad's spirit: her unwavering faith and the awe-inspiring care provided by Jason's nurses. The doctors often get credit for saving lives, but as the whole Stadstad family learned, it's the nurses who actually change lives.
"It wasn't only the care they gave him, but the smiles and care they gave to all our family."
"I was always so inspired by them," Stadstad said. "It wasn't only the care they gave him, but the smiles and care they gave to all our family. The nurses that were put into my life and the impact they had on me and my family… I just knew if there was anything I could do to repay that, to give back in whatever way I could, I knew that's what I would want to do."
Early in 2006, when her son's condition worsened, Stadstad was forced to finally take a full leave of absence from work. She wanted to be home to care for Jason, and she needed the flexibility to make it to his increasingly frequent appointments. It was an easy decision to be there for her son, and the timing was right—work could wait, her son could not.
After Jason passed, after the funeral services concluded and after all the hundreds of thank-you cards had been written, Stadstad realized she couldn't simply pack up her briefcase and head back to the office. The return to normal wouldn't be that effortless. She needed time with her family to grieve and to heal. But as the months passed and winter's darkness gave way to the refreshing light of spring, that guiding voice from above started whispering in Stadstad's ear. The next right change at the right time was coming… and the call to follow a new path was loud and clear.
Back To School … To Give Back
It had been about nine months since her son passed away, and Stadstad, who had been working part-time at the local golf course in order to stay close to her two younger children and help pay the bills, sensed that the "time heals all wounds" grieving period was winding down. The tide was finally turning toward a return to normalcy.
She had devoted herself completely to her family for the better part of two years. Now, it was time for Stadstad to focus on her own journey forward. That voice—like the steady lub-dub rhythm of a heartbeat heard through a nurse's stethoscope—kept calling. Or, maybe it was more of an answer than a call.
"I prayed every single day because I knew there was a bigger plan for me," Stadstad said. "And I was finally ready to listen. I knew this kind of devastation doesn't happen to people and something good doesn't come out of it. In the end… in my heart, I just felt that God's plan was for me to go into nursing."
Nursing school became the goal, and with summer soon ending, timing again proved to be on Stadstad's side. Given her age and her newfound motivation to not just go back to work but to go back and make a difference, she was determined to get through school as quickly as possible… which meant starting as soon as possible.
"Age was a factor and I wanted to nurse for as long as I could."
"Twenty-five years ago it seemed so simple," Stadstad said, thinking back to her first trip through college. "It was different this time because, first off, I had a goal: I wanted to be an RN. I didn't want this to spread out. Age was a factor and I wanted to nurse for as long as I could."
Given that she'd spent 25 years promoting the university, Stadstad naturally turned to UND first. She met with some nursing school faculty and made clear that time was of the essence. That's when Northland Community & Technical College first entered the conversation. As much as her former colleagues wanted Stadstad to stay at UND, they encouraged her to expand her search. They knew Northland offered not only the training Stadstad needed but also the pacing she wanted.
One phone call later—on a late summer day when faculty aren't normally on campus—Stadstad was on her way out to NCTC to meet with two Northland advisors. Yet again, the timing was perfect.
"Get this," Stadstad said still seemingly perplexed by her own good fortune, "Bobbie, the gal who helped students with paperwork and registering for classes, was in that day. The head of the program at the time, who was supposed to be out on leave, also happened to be on campus. They said come on over and we'll visit."
So, Stadstad did just that, expecting nothing more than a quick overview of the program and to be sent home with a pile of paperwork to slog through on her own. But on that hot August day, just weeks before the fall semester would begin, the stars aligned and Stadstad instead walked out the door registered for a full class load. It was more than she expected, more than she could have asked for. It was the first of many beyond-expectations experiences Stadstad would have at Northland.
"By the end of that one day, I went home with books and DVDs and had all my classes mapped out. In one day we got everything done… I was starting the nursing program that very semester. I don't know that I would've done it without the help from Northland's advisors. Without them, I'm not sure I'd be a nurse today."
A Lifelong Northland Advocate
It'd be easy to shrug off Michelle Stadstad's experience as a one-off story handpicked by Northland, but that would be doing a disservice to the staff that puts the needs of students before their own time and time again. Like those two advisors, who gave up an entire summer day just so they could help Stadstad get registered in time for the fall semester. No, stories like Stadstad's are common at Northland. But as Jodi Stauss-Stassen, Dean of Health, Nursing, & Public Services, readily acknowledges, it certainly helped to have such a motivated student to work with.
"Michelle wanted to be the nurse who made a difference."
"Michelle was an extremely dedicated and driven student," Stauss-Stassen said, recalling Stadstad's infectious determination. "She was such a joy to have at Northland and was incredibly passionate about learning. She wasn't here just to pass her classes. Michelle wanted to be the nurse who made a difference."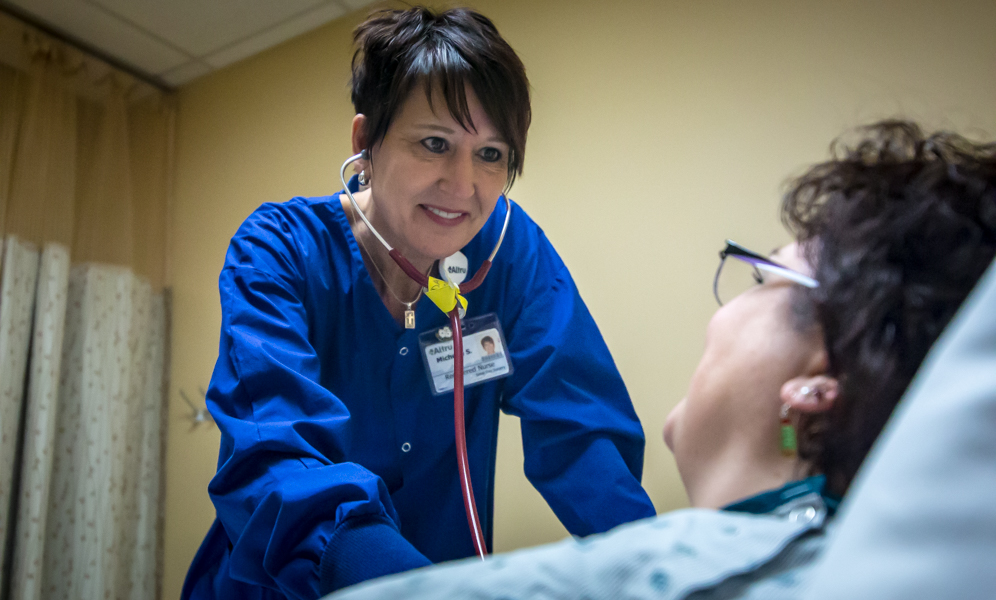 Stadstad's drive took her to Northland, where she found a program that would give her not just the education she needed, but also hands-on practical experience. This clinical experience was key for Stadstad and what separates Northland's nursing programs from even the four-year, bachelor degree tracks at a university. In just one-and-a-half short years, students who already have a PN degree can earn their associate RN degree and enter the nursing field with enough experience and skill to hit the ground running. Northland put Stadstad on the path to making the impact she so wanted to make and in a timeframe that no other school could.
Students like Stadstad inspire Northland's staff to go above and beyond. Instructors, deans, and support staff at Northland inspire equal greatness in the students. A more genuinely supportive atmosphere would be hard to find. It's why Stadstad, several years removed from her days as a student, continues to champion Northland wherever and whenever possible.
"Michelle is such a strong advocate for Northland," Stauss-Stassen said. "You look at where she is now, she's worked her way up quickly… from staff nurse, to charge nurse, and recently to patient care coordinator, and she credits the hands-on experience and clinical experience she got at Northland, all of which allowed her to become the kind of hands-on, highly skilled RN she knew she wanted to be."
'No Such Thing As Coincidence'
Looking back, the path to nursing school started the day her son was diagnosed with cancer. From that moment on, Stadstad witnessed nurse after nurse care for Jason with unshakable love, compassion, and understanding. Without realizing it at first, she had found her role models. As providence would have it, she found the same level of compassion from everyone she worked with and learned from at Northland Community & Technical College.
"It's truly amazing. (Northland) felt like a family, and it still feels that way when I walk in the door."
"Every single person here, and I know it's not just me they're like this with, truly took a vested interest in me as a person," Stadstad said, this time her smile full of gratitude. "It's truly amazing. It felt like a family, and it still feels that way when I walk in the door."
What if no one answered the day Stadstad called Northland from the dean's office at UND? What if nine months earlier, she had decided to just go back to her old job? What if her son had never gotten sick? To Stadstad, there's simply no use in asking such questions.
"In all of this, there's no such thing as a coincidence," Stadstad proclaimed. "Believe in yourself and know that God has a plan for you. Listen to your heart, and go with your passion. There may be a lot of sacrifices along the way, but it will be all worth it."
"Listen to your heart, and go with your passion. There may be a lot of sacrifices along the way, but it will be all worth it."