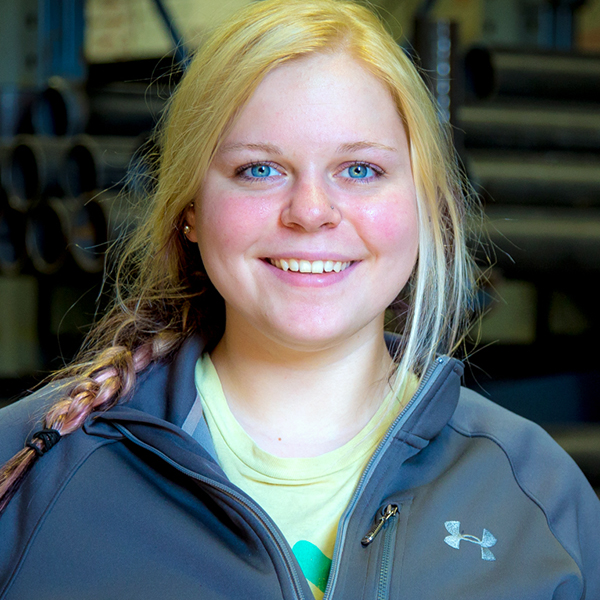 To her, breaking down barriers is just the beginning
Rachel Pich comes to Northland Community & Technical College as a female in the traditionally male dominated field of welding. Originally from the Park River, North Dakota area, she graduated high school in 2014 and will be a 2017 NCTC graduate. As a student in the welding program, Rachel had previous college experience in a nursing program in North Dakota but knew she needed to follow her instinct and go into welding. This decision led her to NCTC, where she is thriving in a program that has a tremendous need for skilled workers. Rachel brings her story of trusting your instincts and breaking down barriers as she excels as a female in a traditionally male dominated field.
"I had felt more like a number at my prior school and after continually hearing that you really get to know your instructors at NCTC and they want you to succeed, I felt like this might be a great fit for me. I basically needed a rewind to go after what I originally had wanted to go into, welding. Welding has been a really good fit so far and I'm really happy with how much I have learned right away. Plus, with two other women in my class, it's made it an even better experience. I'm very confident this was the right choice for me."
Male or female, more people need to consider careers in the trades like welding.
"You need to be able to do what you really want to do, don't let people or ideas hold you back or steer you in a direction you don't think is right for you. Learn and discover what you want to do. Get a taste for what is out there and blend that with your interests, that's where I found what I wanted and I think it was the best way to find it. I really wish more women would consider some of the more non-traditional options out there!"
"One thing that I experienced is that everyone is on a much more equal playing field when you enter college. It doesn't matter who you are or where you came from. You all start equal and need to prove yourself to your instructors. It's really nice. The stigma of people in the trades programs isn't there in college like I had seen elsewhere. People truly realize how much you have to know to succeed in welding or auto or any of the trades programs."
Don't let people or ideas hold you back or steer you in a direction you don't think is right for you.
"Going into the welding field has really been a positive for me. First of all, a big part of my drive was to prove to myself that I could do it. But even more important is that I really want to break down the stigma of going into a male dominated field as well as the overall stigma of working in the trades. I wish more people would realize the skill and ability necessary to be a good welder or plumber or electrician. Male or female, more people need to consider careers in the trades like welding. I couldn't be more pleased with my choice to rewind and go after a career in welding that I can continue to grow with."
RACHEL PICH
Welding Student
Park River, ND