Janie Wunderlich overcame setbacks and disappointment to rise as a positive force on and off the court
By Scott DCamp
·
Photos by Scott DCamp & Chad Sperling
·
March 13, 2020
THE DATE WAS NOVEMBER 17, 2017. Janie Wunderlich, a promising freshman guard was playing in her second collegiate basketball game when she injured her left knee while going in for a left-handed layup late in the fourth quarter of a game at Lake Region State College.
"At first I wasn't really sure what had happened," Janie said. "I didn't have pain. I didn't yell. I just sat there and waited for someone to come talk to me. My knee felt tingly and weak, but I got up and walked off the floor, no problem."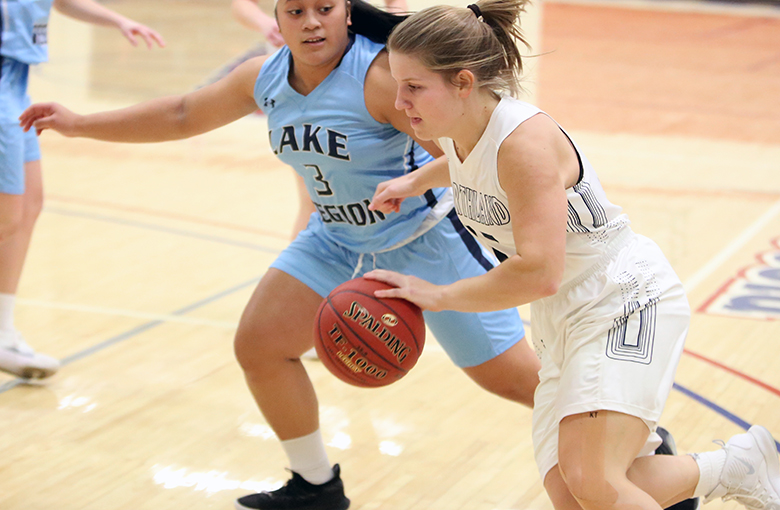 Janie was evaluated by a trainer on-site and the initial tests showed that she still had really good stability and strength – no ACL tear. Two days later, an MRI gave a much different diagnosis. Janie had suffered a complete ACL tear with some damage to her meniscus.
"One of my worst fears was now something I would have to deal with for the next six to nine months," Janie said.
---
A two-sport star
A native of Perham, MN, Janie comes from a big family, with six siblings. Her oldest brother Jesse, 24, was a football star, and older brother Matt, 22, was into robotics and track and field.
Janie, 20, the oldest of three girls in the Wunderlich family, started playing volleyball and basketball in fifth grade.
"I never wanted to miss any practice of either sport and I would cry if I was told I wouldn't be able to make it to one of them for some reason," Janie said. "There wasn't any history of the game in my family, but sports was just something that I fell in love with at a young age."
That love continued through middle school and into high school. As a freshman at Perham High School, Janie played on the C-team for both volleyball and basketball.
"Perham is a decently large school, with my class graduating with 125, so if you want to earn a spot in anything there, you have to work for it – it's not just handed to you," Janie said.
Janie was promoted to the varsity volleyball team a couple of games into her sophomore season. She would play the entire JV game and sit for the varsity game with very little playing time.
The following year, she earned a starting spot as an outside hitter on a good Perham team that was ranked in the state polls and won a section championship before going winless at state.
"It was a phenomenal experience to feel the electricity on that state floor, even if it was only once," Janie said.
Janie continued to start as an outside hitter during her senior volleyball season in fall 2016. The team was filled with a lot of promise but didn't have the same success as the 2015 squad.
"We had a lot of returners back but fell in the second round of playoffs that year to Wadena."
Much like she did with volleyball, Janie made the jump to varsity basketball during her sophomore season. The transition actually started at the tail end of her freshman season after hearing some harsh, but accurate criticism from the varsity head coach.
"A morning after basketball season had ended that year, I went into my head coach's classroom, TJ Super, and asked him what I had to do to play varsity next year," Janie said. "What he told me was that if I played defense the way I did this past year, I would not see the varsity floor. That whole summer, I worked to improve my defense because I wanted to be on that varsity floor that next year."
Janie split time between JV and varsity during most of the sophomore season. "I would play one half of JV, and then I would play varsity," Janie said. "I was a shooting guard that year, and when I did handle the ball, it was all right hand."
Janie was promoted to the starting lineup in the postseason of her sophomore year. The Yellowjackets made it to the second round of sectionals before being ousted by Dilworth-Glyndon-Felton.
---
Choosing Northland
Janie continued to start as a junior and senior at Perham, and it was during her senior season of basketball that Janie began considering the possibility of playing at the next level.
"I never thought I was good enough until probably midway through my senior season of basketball," Janie said. "Volleyball was never in the cards for me. I always thought that there were taller and more athletic players that would fit the volleyball position better than I did. I was all game for basketball though."
Janie asked Coach Super, a Middle River native, what she needed to do to start looking at some options for playing at the next level. A couple of different four-year schools and Northland showed interest.
"Coach [Shannon] Nelson came to one of my games in Perham against Breckenridge," Janie said. "The one game the team decided to face-guard me, which made me freak out and play an awful game because I had no idea what I was supposed to do – every athlete's dream." It may have been a bad game, but Nelson still made it a point to talk to Janie after the game. Nelson said was already sold on Wunderlich before seeing her play in-person.
"I knew Janie's high school coach, TJ Super, and reached out to him to see if he had any players looking to play at the next level," Nelson said. "I honestly don't recall who they were playing. It's funny, players are always concerned about having a good game when we go and watch, but typically if we go and watch we already know we want the kid. I had seen film on her and really just wanted to go to meet her in-person.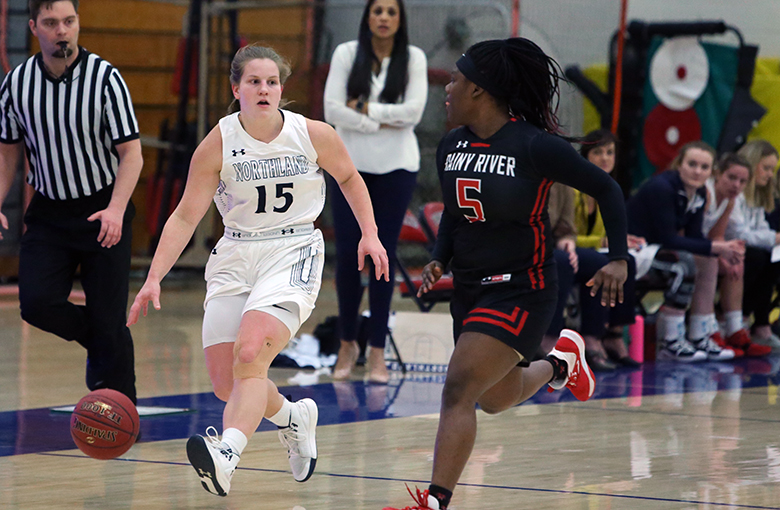 "Even if Janie didn't hit shots or made mistakes, I specifically remember thinking that she was a worker, someone who brings energy and intensity, and someone who was really versatile offensively. She was easy to talk too—friendly, energetic, and engaged in the conversation. Her and her mom came to visit and it felt like a good fit immediately."
Wunderlich toured multiple schools and Northland was distinctly different from the rest.
"Something about Northland just stood out," Janie said. "Just the way that Coach talked about how successful their basketball program was made me want to take part in a program that was successful and was going places, and maybe the way that she made me feel like they actually wanted me played into my decision as well."
Janie was also impressed by the way the community supports the women's basketball program.
"When they say that Northland is a community college, it is a community college," Janie said. "The community takes part in so much at the college, whether it's filling the stands at games, hosting events from around the area, etc. Northland just felt right, right from the start."
---
Focusing on one sport
Volleyball wasn't in the picture when Janie first enrolled at Northland … but it didn't take long for that to change.
"Once I watched the first home game of the season for the volleyball team, I thought, 'I could so play at this level with them.' Then all the questions arose like, 'Would I regret not playing? What if I get hurt? What if I start drama with joining? What if? What if? What ifs?'" Janie joined the volleyball team about a month into the 2017 season.
"I was originally only supposed to practice with the team, which I had hoped would fulfill my desire to play again, but after the first day of practice, I had a jersey in my hand and my name was being put on the roster."
Janie had a sitdown conversation with the volleyball team before she officially joined the team. She wanted to clarify her intentions and ensure that she wasn't creating any drama. "After all, I would be the one to blame considering I joined late and everything seemed to be running smoothly with their team chemistry and whatnot," Janie said. "They all were in agreement with it. So then, after many conversations with Coach [Abdul] Chamma and Coach Nelson, I decided to give it a go."
---
A season cut short
Janie appeared in nine matches and recorded 23 kills and 35 digs during her freshman volleyball season at Northland. That year, the Pioneers qualified for the Region 13B Tournament and they advanced to the championship match, where they fell to the Central Lakes Raiders in three sets.
Janie transitioned quickly to basketball after the volleyball season ended. The game at Lake Region was exactly one week after the volleyball season ended, and it would end up being Janie's last of the 2017-18 season.
Janie's teammates were with her when she got the news that the MRI confirmed a torn ACL and she took comfort in the support of her teammates.
"I wasn't going to have to walk these months on my own. I had my team and that was very relieving for me, especially since I was so far away from home."
Janie's ACL tear was a little unusual in the fact that she still had good stability in her knee.  "I never touched the floor that season competitively, but my behind-the-scenes work was constantly going on," Janie said. "I decided to not get surgery right away. I wanted to play."
Janie went to Rehab Authority in Thief River Falls and explained that she wanted to try to get back on the court that season. Without argument, they got Janie right into PT to get her range of motion back.
"Within a few weeks, I was back on the floor practicing with my team," Janie said. "I had limitations, like not doing contact right away, but I was pretty determined to get as far as I could. Not once do I recall having pain with it or having to stop what I was doing because something wasn't right."
Janie eventually opted for surgery.
"I knew that if I stepped on the floor again that season competitively, and something were to happen, I wouldn't be able to qualify for a medical hardship," Janie said. "In the back of my mind, I would know that my knee isn't fully complete and that even though I wanted to play that season so badly, I could potentially regret it if something were to have happened later down the road."
---
Making the most of a difficult situation
"I believe in the power of attitude, and when I decided to go through with the surgery, I told myself I was still going to play just as big of a role as the players who were dropping double-doubles on the floor," Janie said. "I had two choices lying ahead of me. One was to be one of those athletes who sat at the end of the bench and did stats and made everyone feel bad for them. The other option seemed a bit more thrilling to me, which was being that player that didn't shut her mouth on the bench."
Janie opted to be a vocal supporter of her teammates and she was all-in on her new role. "I recall instances where my teammates would have to pull me back onto the bench because I was so locked into the game – I was basically on the floor," Janie said. "I was so loud when I sat next to the coaches at the front of the bench that they had to ask me to move to the end of the bench because they couldn't get subs in over my voice (which I took as a compliment)."
Northland went on to win the Region 13B title that year and ended up finishing fourth in the nation.
"When we received the regional title that year, I don't think that I could have felt anymore of a part of the team than I did at that moment," Janie said. "I didn't have to be wearing my post-op brace anymore at that time, but I found it funny that my physical therapist told me it wouldn't be a bad idea to bring my brace to nationals from how high I was one-leg hopping off the bench throughout the game."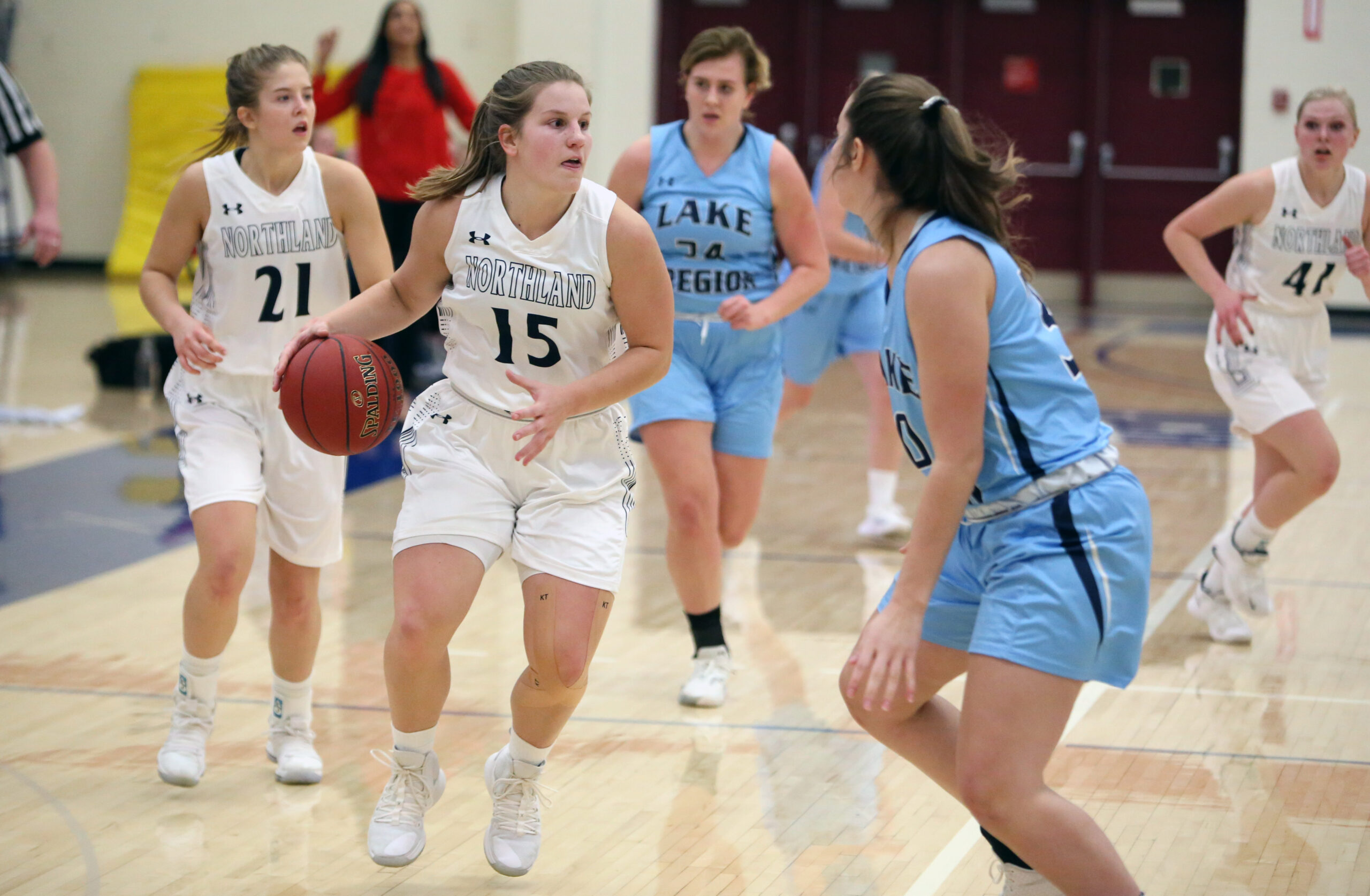 The following year, Janie opted to focus on basketball and posted a stat line of 12.6 points, 3.5 assists and 5.9 rebounds per game. She averaged 31.7 minutes per game over the Pioneers' 28-game season.
"I knew she'd be a big-time player for us but what I wasn't ready for was all the intangibles," Nelson said. "Janie is a great leader and communicator and is mature beyond her years. She is often expected to play all 40 minutes in a game but still finds a way to be the most vocal and energetic player on the floor. We are simply a different team with her on vs. off the court – we depend on her to do a lot and she owns and embraces that role."
Janie didn't completely step away from volleyball. Although she elected not to play for the 2018 Northland team, Janie served as the team's manager and she brought the same level of energy that season as she had the previous winter in basketball.
---
A big decision
Janie's two-game freshman season of basketball was effectively wiped out when her application for a medical hardship was approved by the NJCAA. However, the decision to come back for a third year of school was another story.
"After I finished my early childhood education degree in the spring of 2019, I only needed to take four more classes to get my liberal arts degree," Janie said. "I learned that if I split those classes up between two more semesters, I could declare a liberal arts major and compete in basketball for another year at Northland. I filled the rest of my schedule with classes that interested me but yet challenged me."
Volleyball wasn't originally in the picture at the start of the 2019 season, but the opportunity to play again proved to be too much to pass up.
"I learned what my part was and what I could bring to the team when I managed last year, and this year, I wanted to contribute in the same, yet a different way," Janie said. "Coach Nelson understood me completely when I told her I wanted to play volleyball." In 18 matches for the Pioneers, Janie recorded 186 kills, 28 service aces, 139 digs, and 16 blocks.
Janie finished second on the team in kills behind fellow two-sport star Carly Mekash. Mekash and Janie also form a dynamic scoring duo on the basketball court for the 2019-20 Northland Women's basketball team. At the conclusion of regional play, Janie posted a stat line that includes 16.8 points per game, 6.4 rebounds per game and a team-leading 5.7 assists per game. Mekash leads the team in scoring and rebounds at 20.2 points and 11.4 rebounds per game.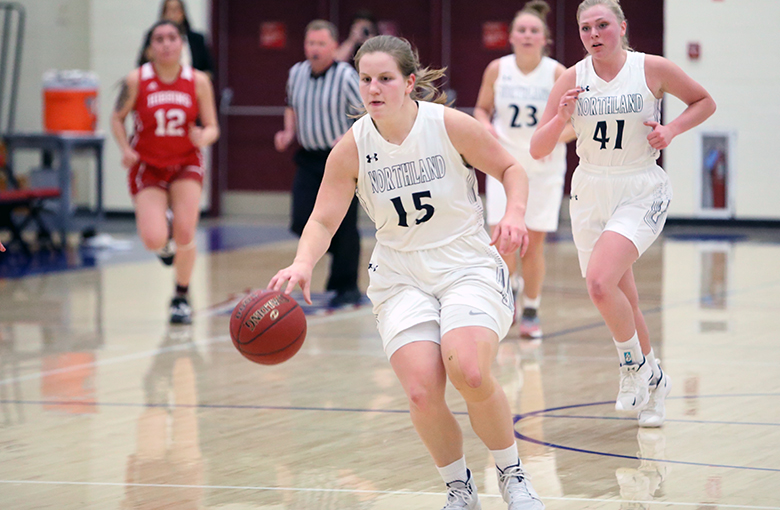 "Carly is a freaking hard worker," Janie said. "Every practice, every drill, it's 110 percent effort. She's a competitor and she doesn't go down without a fight. She knows what's good for the team and she isn't afraid to tell someone what they need to do if she knows it's what's good for us."
Janie added that Mekash's work ethic is contagious.
"She's a great captain of our team and I strive to work just as hard as her on a daily basis," Janie said. "Having her on my team in both sports has been a blast and it's great to share your love for the game with someone else who knows that good things will come to those who work hard. We've been told by our coaches that just because we have the name 'Northland' on our jersey, doesn't mean anything. We have to work for every win, every title, all of it."
As the regular season winds down and the postseason approaches, Janie is unsure what her next step will be. She has already completed her degree in early childhood education, and this spring she will complete her AA degree with a cumulative GPA of 3.94. "I would absolutely love to continue on and finish my last two years of basketball at a four-year institution."