"It felt like home": A Q&A with Emma Jordet practical nursing class of 2020
By Kelly Jordet
·
Photos by Kelly Jordet
·
August 8, 2019
Northland: Why Northland?
Emma:
A lot of reasons really. First of all, I have always wanted to be a nurse, so I was looking at schools that had good nursing programs. Second, I had taken a lot of PSEO (post-secondary education option) classes through
Northland
my junior and senior years in high school and set a goal to complete all of the nursing program prerequisites in case I wanted to apply for direct entry into the program—and third, Northland is more affordable than other colleges in the area.
Was there anything in particular that set Northland apart from other schools?
I had many offers from other schools, but none of them checked all my boxes like Northland — an excellent nursing program, job placement opportunities, affordable, and close to home. Plus, I have had a lot of interaction with Northland's faculty and staff, and they are so welcoming and dedicated. It felt like home. I also have the opportunity to continue shooting with the Pioneer Clay Target team—that's a bonus.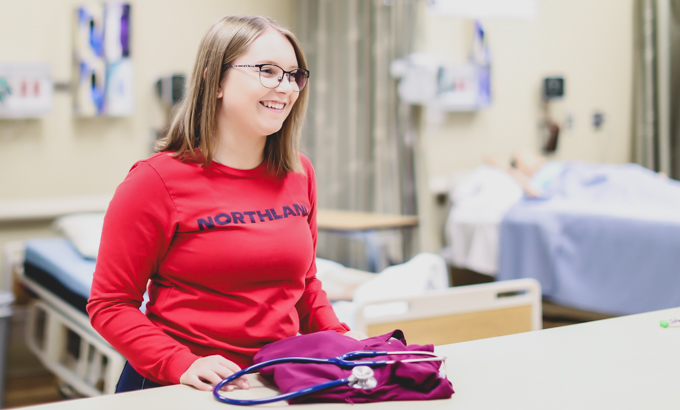 What are you most looking forward to starting college?
I am looking forward to being able to jump right into my field of study. Because I completed my prerequisites while in high school, I get to begin my nursing education right away this fall. I am also having some nervous excitement because this is a whole new journey, but I can't wait to meet my fellow nursing students.
Where did you find your passion for nursing?
I have always had a nurturing spirit—I worked as a gymnastics coach for many years and often helped care for younger family members. When I was really young, my great-grandma was diagnosed with Alzheimer's Disease in her mid-60s. I grew up witnessing her caregivers at home and later in the nursing home, coordinating her care. I saw how important these caregivers were to my family as well as my grandma. They were her advocates. There are also many opportunities in the nursing field. I can work in a hospital, clinic, nursing home, school—with any demographic—the options are endless.
What are your future educational goals?
After completion of the
Practical Nursing program
, I plan to roll right into the RN program. Eventually, I will complete my BSN—more than likely with Bemidji State. Most of all, I am looking forward to working in the nursing field and hope to find a job in my community.
What advice do you have for high school students exploring their options?
If you have a career in mind, don't be afraid to meet with advisors to find out how to
take advantage of the PSEO program at Northland
. The best thing I did was to take as many PSEO and dual credit classes that were available to me. Not only will I save a bunch of money on tuition, but I also have a really good understanding of what's expected of me at the college level.