On the Front Lines of COVID-19 Research, Pharmacy Technology Grad Andy Wirkus Helped Deliver First Antibody Therapy to North Dakota
By Ben Hanson
·
Photography by Kelly Jordet
·
February 23, 2022
FOR A GUY WHO ADMITS HE WASN'T ALWAYS AT THE TOP OF HIS CLASS, Andy Wirkus has made his mark in the ongoing fight to bring about an end to the COVID-19 pandemic.
"I always tell my wife that my work ethic got me further than my brain," Wirkus joked. In his conversation, he's a classic Midwesterner, disarmingly friendly and self-deprecating at every opportunity.
"In high school," he continued, "I was an average student at best… played sports, hung out with friends, the usual stuff. As far as academics, I was never a shining star. But if you're consistent, you can get through anything."
In his research role with Altru Health System in Grand Forks, N.D., Wirkus showed himself to be as consistent as they come, working in conjunction with some of the largest names in pharmaceuticals. And his work ethic and attention to detail helped Altru land a most coveted, potentially life-saving opportunity to be on the leading edge of developing treatment protocols and methods for those suffering from severe COVID-19.
The road Wirkus took to the front lines of the COVID fight was a meandering one in the beginning. Like most incoming college freshmen, he hadn't settled on a career, which meant bouncing between classes in different programs, uncertain when his calling would become clear. The only thing that was certain was it would all start at Northland Community & Technical College, his preferred hometown school.
---
A Medical Career Begins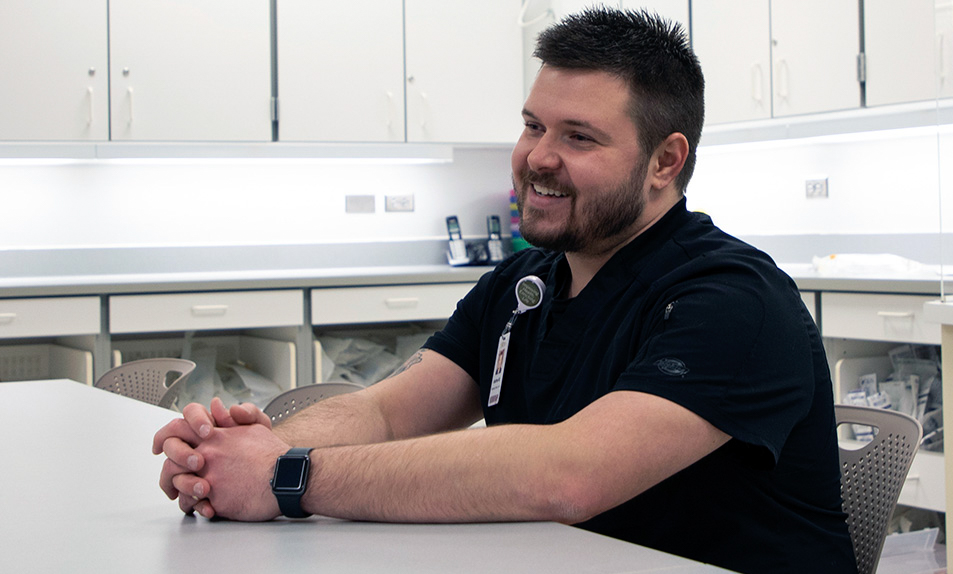 It's hard to find an 18-year-old that has their life completely mapped out. With a seemingly endless list of sports, music, and other extracurricular activities to pick from, it's no wonder that by the time they graduate high school, they've had little time to think beyond the here and now. If there's one thing they usually have figured out, however, it's where they want to go… and such was the case with Andy Wirkus.
"I was born and raised in Grand Forks, lived here my whole life, went to Red River high school and always kind of knew I was going to go to Northland," Wirkus explained with a lingering confidence in his voice. "I honestly never even applied to any other college."
Like so many Northland alumni, Pioneer blood ran in the family. His younger brother and older sister both attended Northland. So it was as close to a foregone conclusion as you'll find that Andy, too, would enroll. But he admits that was the only piece of the puzzle he was sure of.
"I always knew I wanted to go to college but didn't know for what," Wirkus said. "I started out with a bunch of health courses, thinking maybe radiology would eventually be what I wanted to go for… but the waitlist was about four years, so I continued to take the basic math and science courses and changed from radiology to surgical technology."
Though he struggled with those classes, Wirkus was clearly drawn to a career in the medical field. He credits his Northland instructors with giving him the time and extra attention he needed to get through those challenges — and ultimately tipping him off about the opportunities in the pharmacy technology program. As a student with ADHD, that personal attention and feedback were critical to his success.
"I also did 80 hours of job shadowing with a physical therapy assistant and that didn't interest me," Wirkus said with a bit of a chuckle. "I finally got to the point where I had taken (and passed) enough science and math courses where I only had to do a year of pharmacy classes. I decided it would be a good fit for me after speaking with the instructors."
His teachers were always available to him any time of day, Wirkus recalled. With their doors always open, he said they truly made you feel like they wanted you to succeed and do your best.
"I don't think you always get that at a university," Wirkus said.
He also took advantage of the tightly-knit community of students on campus and in his programs of study. Wirkus fondly remembers sitting in the commons with his study group working through assignments and getting help from each other as needed. He also took advantage of opportunities to join clubs and on-site training programs that prepared him well for his future career requirements.
"
There are so many jobs out there our goal is to turn out a complete graduate prepared for this ever-expanding career field.
Danika Johnson, Pharmacy Technology Instructor and Program Director, Northland Community & Technical College
"
"I joined the pharmacy club on campus and we'd hold events and open houses for folks to come through and show off our lab," Wirkus said. "We trained on a program that they use in the field, which made you relaxed once you got into your career. I also jumped at the chance to participate in this pharmacy technician-in-training program. As long as you're enrolled in courses, you can work as a pharmacy technician, so once I got enrolled in courses I got a job at CVS and got to work and go to college at the same time… all working on the same skills."
While these opportunities no doubt exist at larger institutions, Northland's instructors make a point of not only encouraging students to participate and get active in their future field but they take the time to communicate the benefits of getting involved.
"Our program has had smaller numbers, but there are so many jobs out there our goal is to turn out a complete graduate prepared for this ever-expanding career field," said Danika Johnson, Pharmacy Technology Instructor and Program Director. "We have a hands-on lab. We compound. They learn how to work in retail. We teach customer service skills. Pharmacies will call and say we'll take a student now because they know they can train them for a year or so and get them to stay. I wish I had more students to fill the jobs… I can't even fill the spots that are open."
Perhaps if Andy Wirkus knew just how in-demand he would be, his early path would not have taken the various detours it did. But it was all a determined effort to find the right fit, and he had finally found the career that would satisfy his curiosity and welcome his diligent attention to detail.
Graduating from Northland in 2013, Wirkus stayed on at CVS, bounced around to a couple of other pharmacies before being enticed to Altru thanks to a generous sign-on bonus. It was there at Altru, where he'd be given the opportunity to make a tremendous impact in the first global pandemic in a century.
---
The Search for COVID Relief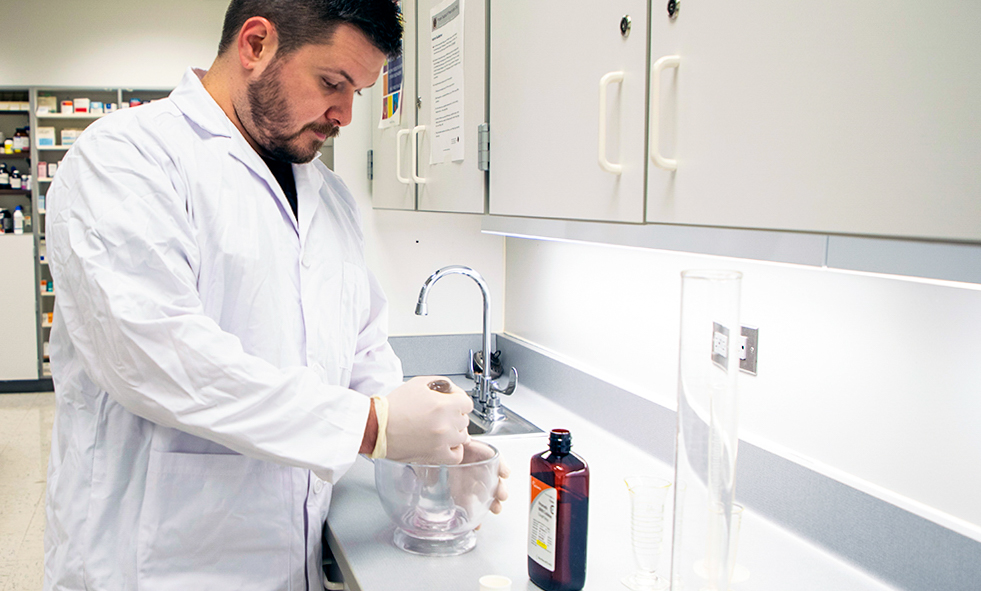 As is his nature, Wirkus took full advantage of working within a larger healthcare system at Altru. He trained on new skills, earned additional accreditations and licenses, and moved up and through what seems like nearly every possible role a pharmacy technician could manage. From the basics of filling prescriptions to delivering them to patients on the floor to becoming an expert in compounding, Wirkus did it all at Altru, eventually landing a position with a little-known pharmacy department in the hospital.
"I started working for home infusion, a section of pharmacy that isn't really talked about," Wirkus started to explain. "Say you get surgery on your knee and you get an infection on your knee… instead of staying in the hospital on IV antibiotics, they send you home to do that at home. I compound the drugs and they'll go home with a week's worth of medication. The patient will have a port they can administer the meds themselves, and they come back every week to check in with the doctors to reassess."
The care and precision needed for home infusion opened the door to Wirkus' next opportunity at Altru. His years of perseverance and dedicated study throughout his years at Northland would pay off once again with a research role that would place him at the very center of the fight against COVID.
"After home infusion, in 2019 I saw there was a clinical research coordinator position that worked with the drug companies doing clinical trials," Wirkus said. "We were working on a lot of cardiology studies using FDA-approved drugs to see if they had more benefits for other issues. It was a pretty intricate job. Then COVID hit, and Altru and Mayo teamed up for convalescent plasma treatment."
At the outset of the pandemic, when people got COVID, they either died or took a really long time to recover, Wirkus recalled. It was a scary time for all, but especially for those providing care on the front lines.
"When COVID first started… probably March or so, I remember we were working on cardiology studies mainly when everything got really serious," Wirkus said sternly. "It was getting scary, numbers were jumping really high. The number 10 stands out to me… 10 people in Grand Forks that were infected."
With convalescent plasma treatments, researchers were hoping to make use of a time-tested technology to help people recover and avoid death or long-term complications. As Wirkus explained, you take the plasma from people who've had COVID and recovered — they now have the antibodies in their system — and you inject it into people who are sick to trigger the appropriate immune response to attack the COVID virus.
---
Patient #1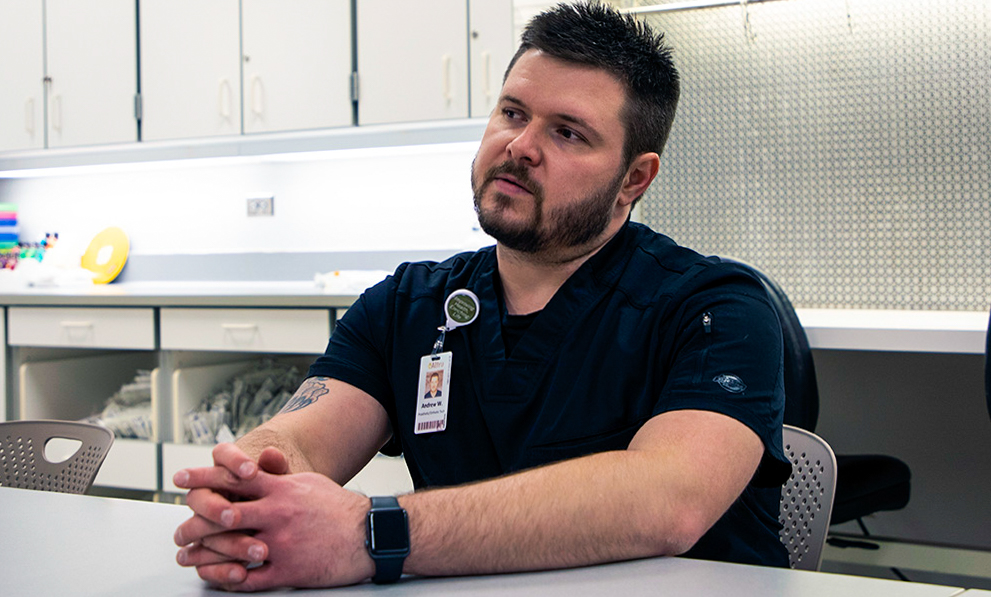 The full story in Wirkus' own words…
We had the first patient in the whole state of ND get this treatment, Wirkus said with a pause. It was crazy how it all came together. In our eyes, it was the last-ditch effort at that time, as the patient was already intubated. I didn't even know his name, but without the research department, Altru wouldn't have been able to take this on… the importance of the research department.
Lots of logistics were in play: it had to be from a patient who had recovered, had to come from a blood bank, the right blood type, and entered it into the Mayo clinic site. They had this plasma on a first-class flight from New York City flown here the next day. We were very fortunate in a sense because the whole US was trying to get this stuff. It was like gold. It was impressive and we were very lucky to get it.
When that first guy got the plasma it was like here we go! His family was really on board. They were very thankful that this was even a possibility. I can imagine how scared they were when there was no solution at that time. All of a sudden we have this Mayo trial to give them hope. We have this option. It was life-changing stuff. That guy could've had a different outcome. It took a lot of us to put it together.
I think that first guy was in the hospital for about a month, got the plasma and it didn't take very long for him to turn around — maybe five days — and they discharged him. I think we ended up with about 50 people during that initial stage, and back then much was still unknown and everything was treated as critical. If the person was still alert, they'd have to sign the consent form. I had a meeting for four hours trying to figure out how a patient can sign a consent form without paper because of the risk of transmission.
It was cool to be a part of something that big and life-changing for the whole world, really. The family was very thankful, and the blood bank was working overtime. I remember it being really hard to get a hold of back then when it was so new. And there were 49 other states that needed it just as much if not more than us, so we were really fortunate to have Altru with their capabilities.
It was sad at the same time, because you're scared for the patients as well, thinking it could be me or my own family members. But it's one of the prouder moments of my life. These kinds of events in history are going to be talked about forever, so to be able to have that experience and be part of something that significant is a big deal. Proud to be a part of it and happy to help people have a positive outcome.
---
Future of Plasma Antibody Treatment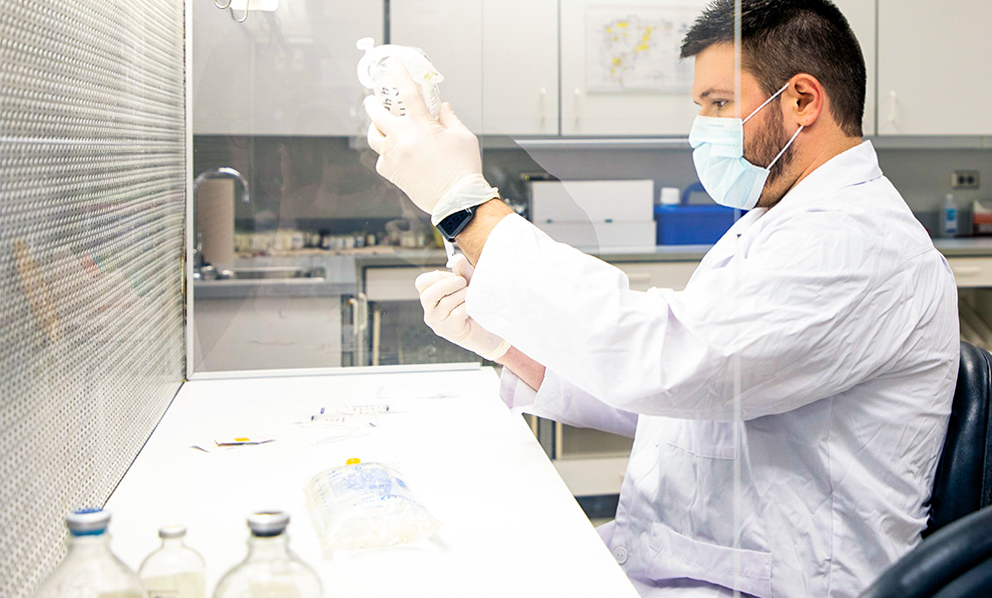 This plasma treatment turned out to be one of the few effective tools in the doctor's tool kit for treating COVID patients, and the practice continues to this day — now with the addition of monoclonal antibody treatment that uses cloned antibodies from plasma donors. Mayo Clinic led the charge, as Wirkus said, and it was thanks to Altru's research department that they were able to team up and bring this life-saving option to the region.
"The whole US was trying to get the convalescent plasma," Wirkus recalled. "It was a real team effort. Weekly meetings with high-up people. It was kind of all scattered when it first happened, but if Altru didn't have a research department they wouldn't have been able to do it."
That initial research has progressed into focusing largely on the further development of monoclonal antibody treatments. Dr. Jeffrey Bell, Biology Instructor at Northland, said the key to monoclonal antibody treatment vs. convalescent antibodies is a more universal treatment suitable to the masses.
"There are two parts to antibodies," Bell explained. "One part that sticks to the virus and a part that sticks to your cell (specific to you). What scientists are doing with the monoclonal treatment is making it non-specific to the individual, just making it stick to the virus."
Bell said the promise of this technology is immense — and has proven as such now that the treatment is more readily available — but as the virus mutates and new variants inevitably arise around the world, the initial trial phase will still present the same challenges.
"The process itself at the industrial level is fairly quick," Bell explained. "The long-term difficulty is initial development and testing. Once fine-tuned, the cloning can be done very quickly. It's just one of many tools that we're working on to treat COVID, but right now, it is one of the few that seems to really reduce the severity of disease in those who are really sick, helping to keep people off ventilators or out of the hospital altogether."
Wirkus feels similarly optimistic about our collective future now that these plasma treatments continue to be refined and perfected for widespread use.
"I think we learned a lot in the past year or so," Wirkus said. "It didn't work for everybody right away, but this technology will certainly come in handy if we run into situations like this again. We got a chance to learn something new, and that's always a positive for the future… an extra tool we now have in our toolkit."
"
And Northland, well, they gave me all the tools I needed to get the career and lifestyle I wanted.
Andy Wirkus '13, Northland Community & Technical College
"
As for Wirkus, his time in the research department at Altru has come to an end, though their work continues. Plasma technology keeps improving and is more readily available to COVID patients thanks to the initial work done by Altru and hospitals around the country in the early days of the pandemic.
Though Wirkus has moved on in his pharmacy career, he will never forget his time spent on the front lines in the fight against COVID.
"I just took a different position, but the interesting part was the research," he said, smiling with both eyebrows at attention. "I can't express how cool that was to be a part of. I think it really shows that we're serious about taking care of the people in our region. North Dakota is usually the last place to get anything, so for us to treat the first patient in the region with this plasma technology shows that we're serious about our peers and our neighbors… and that's the Midwest thing. And Northland, well, they gave me all the tools I needed to get the career and lifestyle I wanted."