An unexpected career path leads to a world of possibilities: A conversation with Aviation Maintenance Technology student Noah Anderson
By Kelly Jordet
·
Photos by Kelly Jordet
·
November 27, 2019
Northland: Where are you originally from?
Noah:
I am from East Grand Forks originally. I went to Sacred Heart School in EGF and after graduation, I attended
Northland's
East Grand Forks campus.
How did you choose the Aviation Maintenance Technology program?
I had been a student on the EGF campus for over a year–I enrolled expecting to take my generals and move on to a four-year college. However, I was really undecided about what major to pursue. I was just trying to figure out what I wanted to do, when my cousin serving with the US Border Patrol in Grand Forks, who works with drones at the Grand Forks Airforce Base and Grand Sky, encouraged me to check out the
number of aviation programs
at the Thief River Falls campus. I decided to take a tour to explore the campus and learn more about the aviation programs. Lynn McGlynn (Administrative Assistant – Aerospace) was there to give me the tour, and as soon as I walked into the hangar, I instantly knew Aviation Maintenance Technology (AMT) program was for me.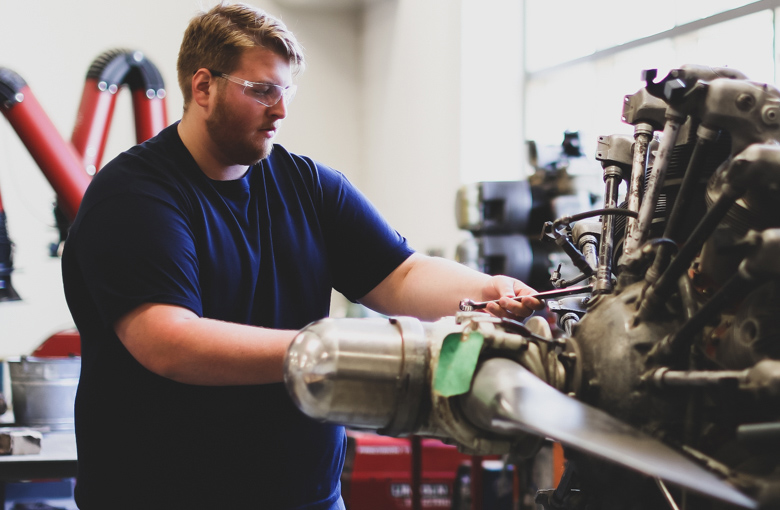 Did you have any prior aviation experience?
I had zero aviation experience prior to Northland and had only flown in a plane once, and that was intimidating, however, I somehow knew that this program was the perfect fit for me. I was up to the challenge.
What is something you didn't expect about the AMT program?
Most everything was unexpected! I was only one of a couple of fellow students that had no prior aviation exposure before coming to Northland. In general, I was nervous about being qualified to work in the field–particularly when you have people's safety in your hands–but I realized pretty quickly that it's attainable. My instructors instilled confidence in me, and made me believe in myself, made me believe that I can do this.
What do you like about Northland's AMT program?
The facility is fantastic, and the program is top-notch. Class size and the resources available to students really lends itself to an extremely well-rounded educational experience. All instructors came from the industry, so they have real-world experience. One of the best things is that students go right from learning in the classroom to the hangar to learn it hands-on.
What are your future career goals?
I graduated last spring with an
Aviation Maintenance Technology AAS
and a certificate in
Unmanned Aviation Technology Maintenance Systems
. I was offered a job at General Atomics Aeronautical Systems in Grand Forks, ND, as a mechanic. General Atomics specializes in remotely piloted aircraft systems. They are very aware of the quality of AMT students that Northland produces, and I think that gave me a leg up in landing the job. In the future, I hope to work my way up into management and help lead other new mechanics in the field.
What advice do you have for potential students considering the AMT program?
Don't be intimidated. Pretty much anyone can do this. If you're looking to work with your hands, you couldn't find a better program with better job opportunities. Every couple of weeks there was a different company meeting with students, attempting to recruit the soon-to-be graduates. The possibilities are really endless. Graduates of this program are qualified to work for not just Delta, but NASA as well. I also don't see this industry slowing down. More and more people flying and unmanned aircraft systems have expanded this field and
opened up a whole new world of opportunities
. It really is the wave of the future.
Do you have any hobbies outside of school?
I love being outdoors; hunting and fishing. I'm really interested in carbon fiber construction for race cars, drift cars, and car body panels. A friend and I are considering opening up a composite and carbon fiber shop on the side.