"Growing up, my family didn't have a house … I used to daydream about a home to call our own": A conversation with Architectural Technology student Ali Alshaban
By Kelly Jordet
·
Photos by Kelly Jordet
·
January 20, 2021
Northland: Where did you go to high school?
Ali: I am a Green Wave from East Grand Forks High School—I graduated in 2019—but I'm not originally from East Grand Forks or Minnesota.
Where are you originally from?
That question is a bit complicated! I was born in Iraq, but we left when I was five or six years old because our country was at war. We moved to Palestine, where my grandfather lived. We then moved to Syria, then to Greece and Cypress for four years, and Turkey for three years. Finally, in 2005 we were able to immigrate to America and settled in Sacramento, CA. We only lived in CA for two years before coming to East Grand Forks. My entire family, along with my uncles and grandfather, all moved to EGF with us.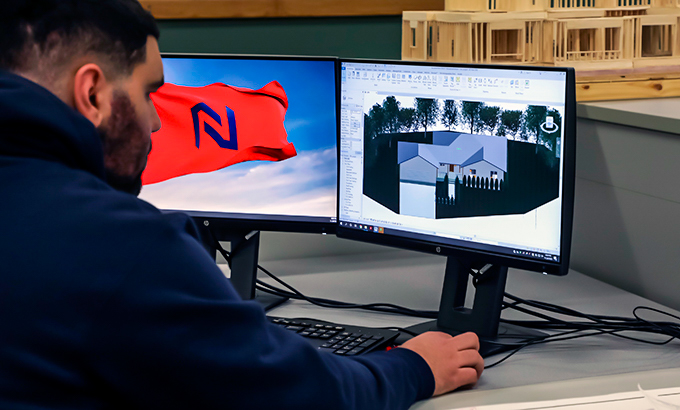 Why did you choose the Architectural Technology & Design program?
I have always been interested in
architecture
. When I was growing up, my family didn't have a house, and I used to daydream about having a home to call our own. This made me obsessed with learning about and understanding how houses are built and how other buildings and structures are erected. I took an architecture/drafting class in high school, and that really made me think I could pursue it as a career.
What brought you to Northland?
A friend of my dad encouraged my brother to attend
Northland
when he graduated from High School. Because my brother really liked Northland, I knew it would be a good fit for me when I learned they had an architecture program. It wasn't a hard decision for me.
Are you involved in any student life activities at Northland?
What are your plans after graduating from Northland?
I plan to look for a job with an architecture and design firm. My dream someday would be to own my own company.
What do you tell others is your favorite thing about Northland?
It's the people: the staff, the faculty, the students. Everyone is centered on helping students graduate. It is like a close-knit family. Rod (Lahren) and Erin (Bulger) were extremely approachable, making it easy for me to learn and get the best education experience possible.