Agriculture is More Than Farming: A conversation with Animal Science student Catherine Marty
By Kelly Jordet
·
Photos by Kelly Jordet
·
February 11, 2021
While growing up, farming was a necessity for Catherine Marty's family. Never did she imagine that her family's hobby farm would ignite an interest in the ag industry, lead her to college, and open up a world of career possibilities.
Northland: Where did you grow up?
Catherine : I am originally from the Roosevelt, MN area. I went to school in Warroad and graduated from Warroad High School in 2019.
What is your program of study?
I will graduate in May 2021 with an AAS in Animal Science and AA in Liberal Arts. I also received certificates in General and Advanced Agriculture.
Why Northland?
I was planning on taking two years off following graduation from high school, but I was encouraged to rethink that plan and attend college right away. I think my dad feared I wouldn't go at all if I took a break. I started looking for two-year programs that would get me in and out of school quickly. That's when I discovered that Northland had several ag programs and realized there could be a great career here–one that fit my interests. That discovery was really what brought me here.
Why did you choose a career in agriculture?
I grew up in a rather large family. There were four kids and a total of six of us in the house. Like many families, we had a small hobby farm that helped provide a lot of the food we ate. We had chickens and pigs and got milk from a local dairy farm. Our neighbors also had horses which I loved! Really my family has been involved in agriculture my entire life. My dad works for a local farmer and hauls sugar beets during harvest–I have also been hauling beets for the past three years.
What would you say is the biggest misconception about agriculture?
When people think of agriculture, usually farming, as in cultivating crops, comes to mind. While that is true, it is only one aspect of the industry. Farming has so many facets that people don't realize. You don't have to grow up on a farm or own a farm to have a career in the ag industry. Careers in ag today can include mechanics, animal care and animal husbandry, agronomy, business, seed genetics, conservation, or many other areas. Farmers are also very smart–some of the smartest people I know are farmers!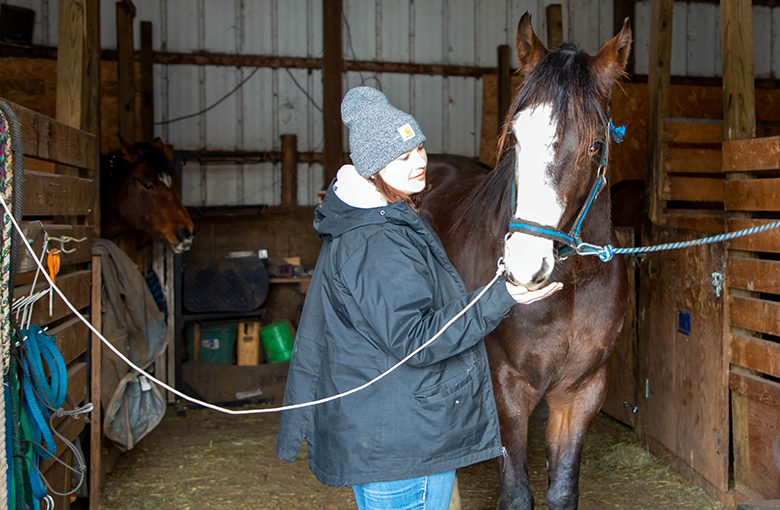 What is the best thing about Northland's Agriculture Programs?
Northland's ag program's best assets are the instructors! ADawn (Nelson) is passionate about everything ag and it really comes through to her students. It is structured to be a very hands-on environment where you learn through doing, through performing real-life tasks on a farm and with live animals.
What would you tell others about the student life opportunities at Northland?
100%–there are tons of opportunities to get involved in activities at Northland! Faculty and staff will help you connect with other opportunities within the community as well. I am a student senator on the Thief River Falls campus. I also am the Vice President for the Ag, Farm & Natural Resources (AFNR) club.
What are your plans after graduating from Northland?
I plan to go directly into the ag industry and seek a job within the dairy industry or maybe even as a vet assistant at a large animal clinic. I am hoping to be able to explore this industry all across the country and study different operations on the job. My ultimate goal is to own my own farm.
What advice would you give to others considering Northland's Ag programs?
Take a tour! Once you see the facilities you'll be amazed! If you have a chance, make an appointment with an ag advisor, and don't be afraid to ask a lot of questions. Also, Northland ag faculty are always willing to meet with interested students–meet with them, ask a lot of questions, and you'll find out for yourself how devoted they are to your success.