Local respiratory therapist makes a big impact on the front lines of healthcare
No more than three steps down the hallway at RiverView Health in Crookston, MN, Dallas Aune gets stopped in his tracks by a booming voice so enthusiastic, it makes you forget for a moment that you're in a hospital. "DALLAS!" shouts the man from his bed, catching a glimpse of his favorite respiratory therapist pass by.
"I'm sorry, I have to go say 'hi' to this guy," Aune said, apologizing for doing his job the way any polite Midwesterner would. A minute later, he pops back out of his patient's room with an even bigger smile on his face than when he went in. It doesn't take a detective to figure out that Dallas Aune is both passionate about his job and quite good at it.
As the reigning Employee of the Year at RiverView Health, Aune's professionalism and skill is well documented. And hearing the acclaim heaped upon him by his peers, supervisors and patients, you might assume that Aune had always planned for a career in healthcare. Not so. While it didn't take him long to discover his calling, it was not part of the original plan. It took a community of support—and a helpful nudge from one of his earliest coworkers—to help him make, as he would later call it, "the best decision" of his life.
Finding His Calling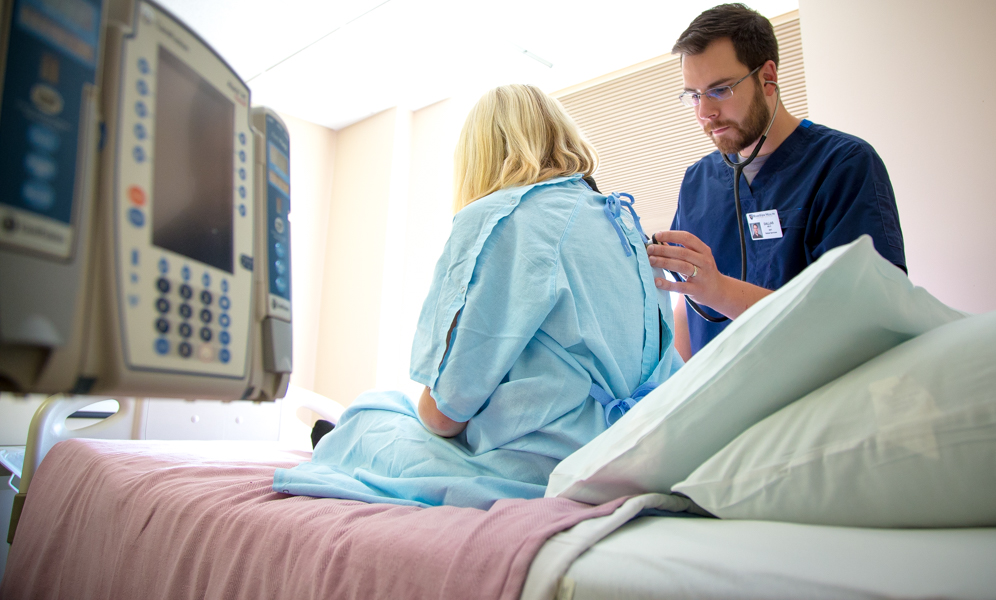 Here in the upper Midwest, community is everything. Friends are family, neighbors are allies and strangers become quick friends the moment help is needed. The lure of leaving home for college or career will always entice some away, but the sense of community that is embedded into everyday life is why many more choose to stay. It's the main reason why Aune chose to stick close to his hometown of Crookston after graduating high school.
What that sense of community actually is, however, is hard to pin down… one of those "you know it when you see it" things that defies any sort of clear definition. If you ask Aune what community means to him, he'd tell you it's about helping. Sounds simple enough, but for him it goes much deeper than that.
"They showed me that caring for patients was a very rewarding thing. Putting a smile on their face is the best."
The day he went to work for RiverView and first put on a set of scrubs as a Certified Nursing Assistant (CNA), Aune's life took on new meaning. "As a kid, I loved being outdoors," he said, admitting his original career goals were not all that altruistic. "In high school, I was planning to just look for a job that would take me outside. But that all changed when I became a CNA at the nursing home… it opened up my eyes to a new view on things."
If you know a CNA, you know the work is rarely glamorous—taking vitals, bathing patients, feeding those that cannot feed themselves. But the rewards of providing that level of one-on-one care are rich, and Aune uncovered a passion for helping others he never anticipated.
"Getting to work with residents of the nursing home taught me a lot," Aune said. "They showed me that caring for patients was a very rewarding thing. Putting a smile on their face is the best."
The caring came easy to Aune, and his patients loved him for it. He was hooked, but it meant his plans for a career in the great outdoors would have to change.
Choosing Northland: 'Best Decision Ever'

"I absolutely love helping people," Aune said. "It's one of the main reasons why I chose healthcare. The big selling point for me to go back to school to study respiratory therapy was to increase my knowledge so that I could go on to work in multiple areas of the hospital and get to make an impact in the lives of many different patients."
Wanting to stay close to home and the community of friends and family he grew up with, Aune considered the University of North Dakota, but cost was a factor. Thanks to a timely tip from one of his coworkers at RiverView, he took a look at a smaller, more community-driven institution: Northland Community & Technical College.
At Northland, Aune found an affordable, fast-paced and hands-on learning environment—the hallmark of the Northland's Health & Human Services Department. And in storybook fashion, he found himself back at RiverView within just a few weeks, working with patients and training under the direction of RiverView's seasoned caregivers.
"That hands-on training is one of the things I absolutely love about Northland," Aune said. "The training you get with a two year degree is exceptional. I know at UND… [students] don't usually get to be in the clinical setting until maybe the second year, whereas at Northland you're in the clinical setting working with patients almost right away. So for those two years, you're in the thick of it all the whole time. Northland was the best decision ever."
Community Relationships Provide Opportunities for Northland Students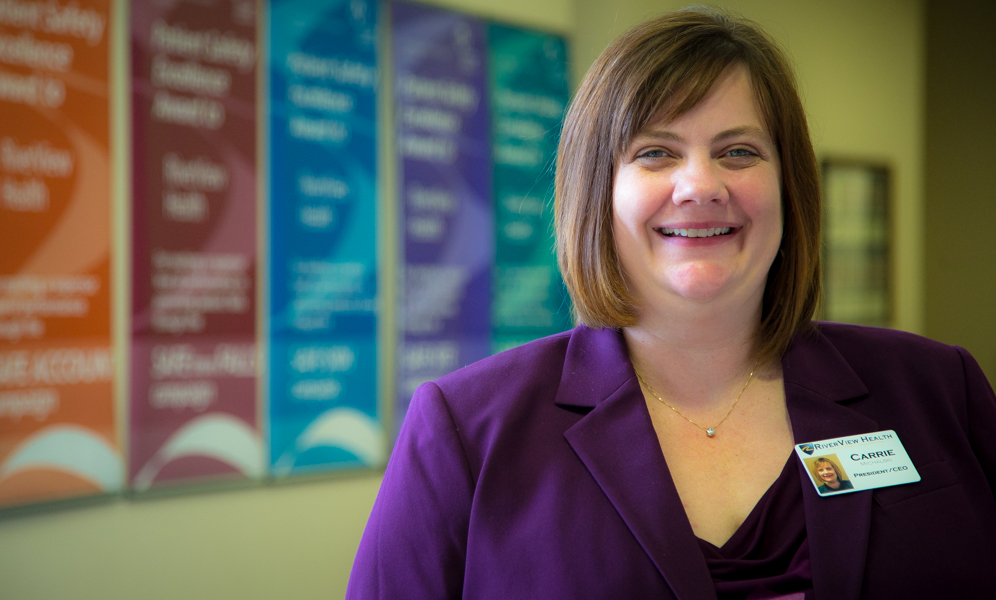 According to Jodi Stauss-Stassen, Dean Of Health, Nursing, & Public Services at Northland, the entire country is facing a shortage of healthcare workers. Small communities like Crookston are struggling to keep up with the demand of an aging population in need of increasing amounts of care. Plus, being set in a rural area hours away from the nearest metropolitan hub makes it all that much harder to recruit top talent.
To help stack the odds, Northland has developed strong relationships with regional healthcare centers to provide students with hands-on training opportunities that rival any four-year university. As a small community college, it's a natural fit for Northland to work with small, community-based hospitals like RiverView. These partnerships have fostered the development of homegrown talent like Dallas Aune, an enduring win for the entire community.
"Each small community, even Grand Forks, has a hard time recruiting," Stauss-Stassen explained. "Educating our local students who are born and raised here… they're just more committed to the area, to the organization and to the community. They're much more invested. With Dallas, it shows the value of someone who has a strong tie to their community who wants to give back."
For Aune, RiverView has become more than just a community. "This place is family to me," Aune said with a smile. "My wife works here as well, so both literally and figuratively this place is family. I grew up in this community, and a lot of community members work here, so we have a very strong relationship here among staff."
Over the past several years, Northland has forged relationships with all of their clinical partners like RiverView. Northland's nursing program has students training in area hospitals at least four days a week. It's a big investment on the part of the hospital, but it shows their committment to training the next generation of healthcare workers, as well as demonstrates a high level of respect for Northland and their students.
"With Dallas, it shows the value of someone who has a strong tie to their community who wants to give back."
"Culturally we've got a good fit with Northland," said Carrie Michalski, President/CEO of RiverView Health in Crookston, MN. "We do a lot of work with their students in their clinicals, and we have professionals on their advisory boards to provide input when they're putting together their programs. The college is very receptive to receiving industry input. They are great about working with us to ensure students get the training they need in the field."
As a result of these close partnerships, Northland grads enjoy a priceless perk—the majority of healthcare programs offered at Northland boast a 100% placement rate for graduates. A job for every graduate… as impressive a statistic as you'll ever find.
"We are so so grateful that Northland is here in the region with their commitment to training health professionals for our area," Michalski said. "If we didn't have the asset of these training programs that were so near to us, it would be very very difficult to provide the level of care we provide to our patients."
Employee of the Year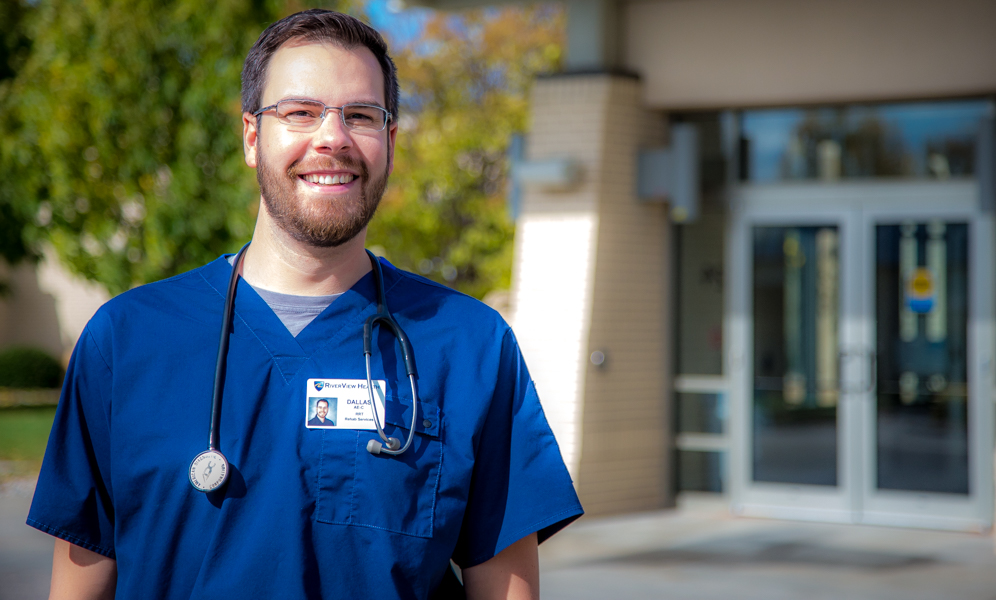 Regarding Northland's high placement rate, there's more to the story than just a few cozy relationships with area employers. Graduates of the college's Health & Human Services Department earn their jobs on their own merit and go on to do wonderful things in service to others. Dallas Aune just happens to be the shining example in a long list of Northland grads who are making big impacts in the healthcare industry.
"We would take 300 more Dallas Aunes if we could," Michalski said, her tone emphasizing the tremendous need for highly-qualified healthcare professionals. "He's a very skilled technician. More importantly he's a genuinely great person who loves our patients as much as our organization does. He brings everybody's skillset up that he works with, and those roots come from his community and from his time at Northland."
Aune was named Employee of the Year at RiverView in 2015 by his fellow employees, who recognized him not just for his expertise, but perhaps even more so for his ability to connect with patients in a way truly befitting a community-driven hospital.
"When you hear Dallas in a room with a patient, he does more than treat their diagnosis, he creates a personal bond with every patient he touches that does not go unnoticed,'' said Annie Waldal, Inpatient Unit Director, in an interview with the Crookston Times. "RiverView has truly been blessed with his skills, knowledge and amazing approach to treating patients.''
"He brings everybody's skillset up that he works with, and those roots come from his community and from his time at Northland."
Sheepishly, Aune admits his secret to success on the job can be found on a motivational poster you might find in the hospital gift shop. Except this one is hanging up in RiverView's physical therapy wing, where Aune passes through on his daily rounds.
"It may sound a bit cheesy," Aune said with a slight shrug of his shoulders, "but there's this picture down the hall that really sums it up for me. It says 'What makes a person extraordinary? The extra.' Just that little bit of extra… that's my motto."