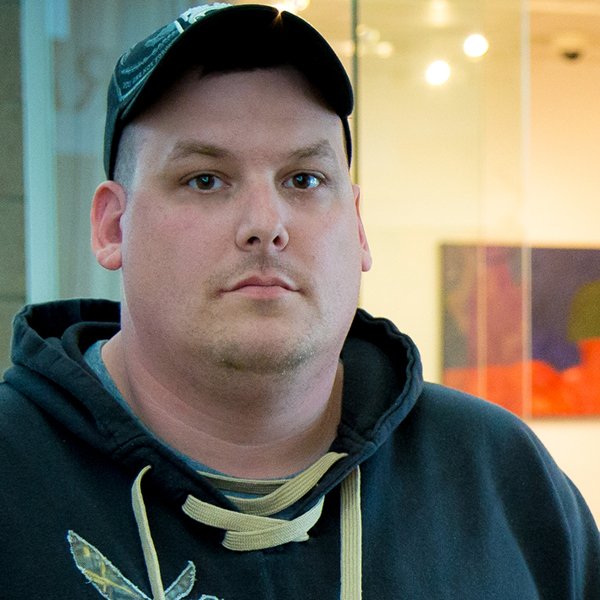 He Creates Awareness Through Art
Zach Lee comes to Northland Community & Technical College after retiring from the Army National Guard. Originally from Elk River, MN, Zach went into the Service directly after high school and moved to Thief River Falls in 2008 to round out his service as a recruiter for the National Guard. After retirement, Zach decided that college was the next step in his journey and he chose NCTC because he knew NCTC would provide a more helpful and personalized transition into college as a non-traditional student. Zach brings his story of struggle and success of how he found his niche at Northland through an art instructor and a paintbrush.
After being deployed, Zach found himself struggling with PTSD and hadn't found an effective way to deal with it. One day, while in the veteran's resource center at NCTC, he was bombarded with questions from an "overbearing" art instructor (John Leopold) who wouldn't leave his service dog, Lucy, alone. After calling him (Leopold) out over their encounter, he asked Leopold to paint a picture of a sunset photo he took in Iraq. Leopold declined to paint that image but instead told Zach he would teach him how to paint it himself. Zach decided to take him up on that offer although he had zero interest in art prior to this chance encounter. This decision proved to be a life changer.
Fast forward to today and Zach now has his own art gallery that focuses on PTSD awareness displayed in the Thief River Falls campus and has found art to be his passion and therapy. This gallery allowed Zach to turn his emotions into his work and has also been a source of inspiration and hope for other veterans that face many of the same obstacles. A random encounter at NCTC has proven to be a life changer for Zach. We recently sat down and talked to him about his experiences at NCTC as a whole.
"I am planning to graduate from NCTC and transfer to UND with the end goal of getting my Ph.D. within mental health and a minor in art therapy. With this, I plan to stay near the Thief River Falls community to help others, especially veterans, through art therapy because it helped me so much. It sounds cliché, but NCTC was the first college I went to and they believed in me and helped me. I always will call it home and plan to stay active there."
I had convinced myself, I'm 32, what do I need art for?
"I was actively working on a way to get out of taking the necessary arts class prior to meeting Leopold. I had convinced myself, I'm 32, what do I need art for? Finding art and finding the therapeutic results that art has brought me, is something I never would've guessed and has had a huge affect upon me."
"I actually late enrolled into my first art class after meeting him that day and it's grown into this because of that late enroll. Right off the bat, I knew the way that I can read people, that I found an instructor (Leopold) that really cared about you and your success. He bought me paint to start, he got me all set up, and he even carved out a space where I could paint in his area when I wasn't in art class. I don't know anywhere else you would get that. I would spend my day in there unless I had another class. It was relaxing, it was therapy. Give art one semester at Northland, and you'll be in love with it."
It was relaxing, it was therapy. Give art one semester at Northland, and you'll be in love with it.
"I have found a desire to become a TED Fellow and am applying to become one as we speak. I think it would be really great to be able to take my experiences (and art) and be able to share it on a much larger scale. Being able to explain what being a veteran really means to that audience could really bring positive change, something that is much needed."
"I want to show others what I've dealt with, to show people how it feels. The original intent was to put some feeling into the painting, the emotions. So someone who doesn't have PTSD can kind of see or feel what it's really like and it's all evolved from there to where we are today. It's something that is really necessary because people don't understand what it is like to be a veteran coming back and then dealing with PTSD. It going to be easier for others to talk about their experiences if they have something to show, like paintings did for me, so that's why I am so interested in art therapy. Veterans need help and they need a voice and I want to be able to be that support for them."
ZACH LEE
Army National Guard Veteran
Elk River, MN